Schindler's List 20th Anniversary Blu-Ray – Clips and Bonus Features Details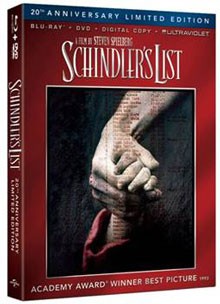 In support of the 20th anniversary of the release of Steven Spielberg's Schlinder's List, Universal Studios has released a Limited Edition Blu-ray Combo Pack in high definition – restored from the original negatives. Says Craig Kornblau, President of Universal Studios Home Entertainment: "Schindler's List is a rare masterpiece of filmmaking that remains as riveting and moving today as it was for moviegoers 20 years ago. It stands as a powerful reminder of the heroism and humanity of those willing to stand up against intolerance."

And in addition to the 20th anniversary of the film, this year marks the 20th year of existence of the USC Shoah Foundation – The Institute for Visual History and Education. The organization was created by Spielberg after being inspired to do so through the making of Schindler's List. Spielberg created it to provide a place to collect videotape interviews with Holocaust survivors and witnesses. Currently the USC Shoah Foundation's Visual History Archive has almost 52,000 testimonies and according to the official announcement of Schindler's List's anniversary release, Spielberg considers the USC Shoah Foundation the "most important work of his professional life and the legacy of Schindler's List."

Schindler's List 20th Anniversary Limited Edition Blu-ray™ Combo Pack Bonus Features:
· Voices from the List: Featuring documentary with testimonies from those who survived the Holocaust thanks to Oskar Schindler.
· USC Shoah Foundation Story with Steven Spielberg: The director shows how filming Schindler's list inspired him to establish the USC Shoah Foundation.

The Plot:

Adapted from the novel by Thomas Keneally, Steven Spielberg's masterful film tells the incredible true story of the courageous Oskar Schindler (Liam Neeson). Initially a member of the Nazi party, the Catholic Schindler risks his career and life, and ultimately goes bankrupt, to employ 1,100 Jews in his crockery factory during the Holocaust. Schindler's Jewish accountant (Ben Kingsley) serves as his conscience, as Schindler conducts business with an obstinate and cruel Nazi commander (Ralph Fiennes), who viciously kills Jewish prisoners from the balcony of his villa overlooking a prison camp. Filmed entirely in black-and-white on location in Poland, Schindler's List does not downplay the faults of its magnanimous and unlikely hero, but relates a story of the triumph of the human spirit in the face of horrific devastation and tragedy.

Watch the bonus features clips:





Follow Us On:

Journalist covering the entertainment industry for more than 13 years. Member of the Broadcast Film Critics Association, Alliance of Women Film Journalists, and San Diego Film Critics Society.

Latest posts by Rebecca Murray (see all)
Schindler's List 20th Anniversary Blu-Ray – Clips and Bonus Features Details
was last modified:
March 5th, 2013
by