John Berman Joins Early Start on CNN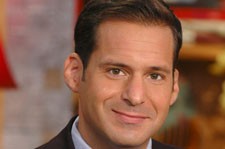 CNN announced John Berman has been tapped to anchor Early Start, the network's morning show. Berman, a correspondent for ABC News and Good Morning America, will also be contributing to other CNN programs as well as handling Early Start anchor duties.
Ken Jautz, executive vice president of CNN, made the announcement, stating: "We are so fortunate to have this talented and seasoned journalist join our morning show and become a regular presence on our air throughout the day. John is a skilled reporter with a passion and personality that shine through, whether he's covering the political season or his beloved Red Sox."
"John is an exceptional journalist who brings with him the perspective of having covered many of the last two decades' most significant stories. His coverage of the past four Presidential elections, experience as an embedded journalist in Iraq, on-site reporting during the 2006 war in Lebanon, plus his pop culture interest and acumen, make him a strong asset to our team," added Mark Whitaker, CNN Worldwide executive vice president and managing editor.
Early Start airs weekdays from 5-7am ET/PT.
"It is a pleasure to join the prestigious global news leader CNN. I am looking forward to being a part of the morning team and to contributing across CNN's lineup," said Berman.
Source: CNN