Mission: Impossible – Ghost Protocol Sweepstakes Details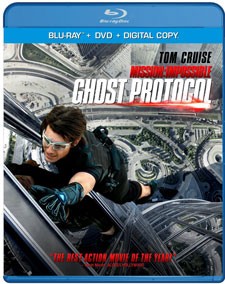 Mission: Impossible – Ghost Protocol is coming to stores on Blu-ray and DVD on April 17th which is also, unfortunately, the same day taxes are due. So just to make one lucky person's tax day a little less painful, Paramount Home Media Distribution (PHMD) has announced a sweepstakes with a $10,000 prize.
To enter for a chance at winning $10,000 and a copy of the two-disc Blu-ray/DVD combo pack of Mission: Impossible—Ghost Protocol, visit www.MI4TaxDaySweeps.com. You can enter the contest once a day via the website and you can also earn additional bonus entries by tweeting (details at MI4TaxDaySweeps).
More on Mission: Impossible – Ghost Protocol:
This is not just another mission. 

The IMF is shut down when it's implicated in a global terrorist, bombing plot. Ghost Protocol is initiated and Ethan Hunt and his rogue new team must go undercover to clear their organization's name. No help, no contact, off the grid. You have never seen a mission grittier and more intense than this.

Mission: Impossible – Ghost Protocol Blu-ray and DVD Details:
Limited Edition 3-Disc Blu-ray/DVD Combo Pack:

Blu-ray (Disc 1)
· Feature film in high definition
Blu-ray (Disc 2)
· Mission Accepted
o Suiting Up In Prague
o Heating Up In Dubai
o Vancouver Fisticuffs
· Impossible Missions
o The Russian Prison
o Shooting in IMAX®
o Art Department
o A Roll of Film
o Life Masks
o Stepping into the Storm
o The Sandstorm
o Dubai Car Crash
o Lens on the Burj
o Props
o Composer
· Deleted Scenes with optional commentary by director Brad Bird
o Including an Alternate Opening
· Trailers
DVD (Disc 3)
· Feature film in standard definition
Two-Disc Blu-ray/DVD Combo Pack:
Blu-ray (Disc 1)
· Feature film in high definition
· Mission Accepted
o Heating Up In Dubai
o Vancouver Fisticuffs
· Impossible Missions
o The Sandstorm
o Props
· Deleted Scenes with optional commentary by director Brad Bird
o Including an Alternate Opening
DVD (Disc 2)
· Feature film in standard definition
Single-Disc DVD:
· Impossible Missions
o The Sandstorm
o Props
· Deleted Scenes with optional commentary by director Brad Bird