Person of Interest Will Be All Over Comic Con
The Warner Bros. Television/CBS dramatic series Person of Interest will be well represented at the 2013 San Diego Comic Con. The popular series will be featured on 40,000 limited edition keycards used at 30 hotels surrounding the San Diego Convention Center during the sold-out event.

According to WB TV, this is the first time in Comic Con's history that one television series will be featured on all Comic Con-themed keycards.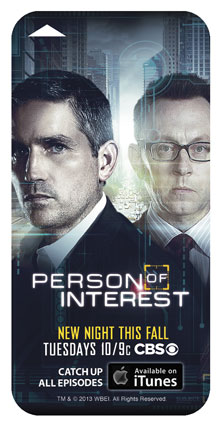 In addition to the keycards, Person of Interest will present a panel on Saturday, July 20th featuring cast members and executive producers Jonathan Nolan and Greg Plageman.

Details on Person of Interest:

Person of Interest stars Jim Caviezel as John Reese, a former CIA agent who teams up with reclusive billionaire and computer genius Harold Finch (Michael Emerson). The crime thriller follows Reese and Finch as they set out to prevent violent crimes with high tech surveillance and their own brand of vigilante justice. Reese's special training in covert operations appeals to Finch, a software genius who invented a program — aka the Machine — that can identify people soon to be involved in violent crimes. Tapping into ubiquitous surveillance feeds throughout the city, the two work outside of the law, combining Reese's black ops skills with Finch's technological prowess and unlimited wealth to unravel the mystery of the person of interest, and stop the crime before it happens.

Reese's actions draw the attention of the NYPD, including by-the-book homicide Detective Joss Carter (Taraji P. Henson) and the morally compromised Detective Lionel Fusco (Kevin Chapman). With infinite crimes to investigate, Reese and Finch find that the right person, with the right information, at the right time, can change everything.

Source: Warner Bros Television
Follow Us On: