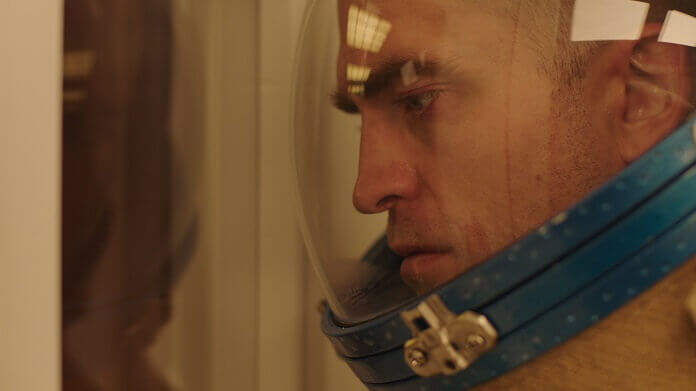 The first official photo has been released from High Life which recently wrapped up filming. Robert Pattinson stars in the sci-fi adventure which marks the English language debut of writer/director Claire Denis (Un beau soleil interieur, Les salauds). Denis co-wrote the script with Jean-Pol Fargeau, Geoff Cox, and Nick Laird.
In addition to Robert Pattinson, the cast of High Life includes Juliette Binoche (Clouds of Sils Maria, Ghost in the Shell), André Benjamin (Idlewild, Smokin' Aces, Mia Goth (A Cure for Wellness, The Tunnel), Lars Eidinger (Sense8, Babylon Berlin), and Jessie Ross (The Frankenstein Chronicles). Laurence Clerc, Oliver Dungey, Christoph Friedel, Andrew Lauren, DJ Gugenheim, Claudia Steffen, Olivier Thery-Lapiney, and Klaudia Smeija served as producers.
Robert Pattinson's credits include starring as the sparkling vampire Edward Cullen in the Twilight film franchise. Outside of the Twilight films, Pattinson's starred in How to Be (2008), Little Ashes (2008), Remember Me (2010), Water for Elephants (2011), Bel Ami (2012), Cosmopolis (2012), and Maps to the Stars (2014). More recently, Pattinson's starred in the critically acclaimed films The Lost City of Z and Good Time.
Pattinson was nominated for the Best Male Lead by the Film Independent Spirit Awards for his performance in Good Time. That role also earned Pattinson San Diego Film Critics Society, Satellite, Seattle Film Critics, Online Film Critics Society, Houston Film Critics Society, Gotham Awards, Florida Film Critics Circle, Austin Film Critics Association, Evening Standard British Film Awards, International Cinephile Society Awards, and Detroit Film Critics Society nominations in the Best Actor category.
The sci-fi film's an Andrew Lauren Productions, Apocalypse Films, Alcatraz Films, Pandora Filmproduktion and Madants production. Wild Bunch is handling sales of High Life at the European Film Market.
The Plot: A father and his daughter struggle to survive in deep space.