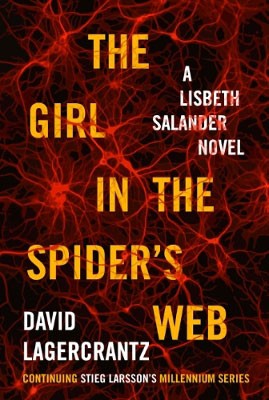 The fourth book of Stieg Larsson's Millennium Series, The Girl in the Spider's Web, went on sale on September 1, 2015 in Canada and the U.S. and sold more than 200,000 copies over its first week in release. The fourth book was written by journalist/novelist David Lagercrantz who was selected to continue Larsson's series by his estate. Larsson passed away in 2004.
Worldwide, the first three books in the series – The Girl with the Dragon Tattoo, The Girl Who Played with Fire, and The Girl Who Kicked the Hornet's Nest – have sold more than 80 million copies. This latest book hit the #1 spot on the New York Times bestsellers list and the demand has been so high that Knopf has ordered four additional printings.
"The response from readers has been beyond what we'd anticipated and speaks to the connection readers have to this series," said Sonny Mehta, Chairman and Editor-in-Chief of Alfred A. KnopfMehta. "Lisbeth Salander is one of the most compelling heroines of 21st century crime literature and I am thrilled to see readers have welcomed her return."
The Plot:
She is the girl with the dragon tattoo—a genius hacker and uncompromising misfit. He is a crusading journalist whose championing of the truth often brings him to the brink of prosecution.
Late one night, Blomkvist receives a phone call from a source claiming to have information vital to the United States. The source has been in contact with a young female superhacker—a hacker resembling someone Blomkvist knows all too well. The implications are staggering. Blomkvist, in desperate need of a scoop for Millennium, turns to Salander for help. She, as usual, has her own agenda. The secret they are both chasing is at the center of a tangled web of spies, cybercriminals, and governments around the world, and someone is prepared to kill to protect it . . .
Follow Us On: