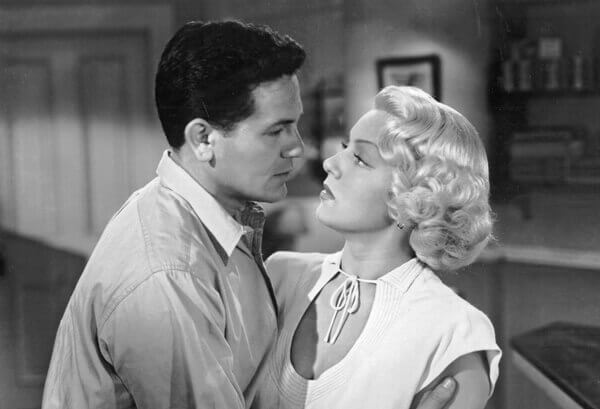 When Jacob Julius Garfinkle was growing up on the mean streets of the Bronx, Queens, and Brooklyn, he learned to be tough as well as "all the meanness, all the toughness it's possible for kids to acquire," so he said in later years. There was no silver spoon in his or his little brother Max's mouths. Sometimes there wasn't even food.
When he became an actor named John Garfield years later, he never forgot he had been born March 4, 1913 to David and Hannah Garfinkle, two Russian-Jewish immigrants. His father was a pants presser and poor. His mother died young and left her children to be brought up in various relatives' shabby homes. Although he fought his way through the various street gangs of his era, he took on the charisma of a toughie, a bully, and a strong guy. As many boys did in that pre-Depression era, he took a liking to boxing and hung out at a local boxing gym. He had one talent that nobody else had – he was a good mimic and could amuse people.
Many people ask why Garfield died so young at age 39 at the height of his movie career. The reason was he contracted scarlet fever as a boy around the time he started boxing. His heart was permanently damaged and was weakened for the rest of his life. After playing a rigorous game of tennis, he died the following day on May 21, 1952.
Growing up on the mean streets of New York, Garfield was considered a problem child after being expelled three times from his neighborhood school. Off he went to PS 45, a school that took in difficult kids. The school's principal felt an acting class would help Garfield get rid of his tensions and anger. At the time he had a natural charisma and a talent for reciting.
His teacher and principal encouraged him to enroll in The Heckscher Foundation to learn acting. He appeared in several of their productions and learned backstage craft by painting scenery and sweeping the stage. Under a recommendation by famous Yiddish actor Jacob Ben-Ami, Garfield also took classes at the American Laboratory Theater.
He studied under Oscar-winning actress Maria Ouspenskaya, where he learned the Stanislavsky "method" of acting long before Marlon Brando popularized it in the 1950s. (Note: Garfield was offered the role of Stanley Kowalski in Tennessee Williams' Streetcar Named Desire by producer Irene Mayer Selznick before Brando. She and Garfield couldn't come to financial terms). Other people at the lab who were to become famous in the theater in the years to come were famed acting teacher Stella Adler, Lee Strasberg (who taught Marilyn Monroe in the 1950s), actor Franchot Tone (who married MGM star Joan Crawford in 1935), and future stage director Harold Clurman (Bus Stop, Golden Boy, Member of the Wedding).
Taking a break from acting, Garfield solidified his manly image by logging in the Pacific Northwest, riding the rails as a hobo, picking fruit with immigrant labor, and generally learning about life in the trenches.
Back in New York, Garfield made his Broadway debut in 1932 in Lost Boy. It was a flop, but it gave him an official credit to help him find other jobs. He was cast in the Elmer Rice Play Counselor at Law starring movie actor Paul Muni. When Muni had to return to Hollywood for a film at Warner Bros., the studio offered a contract to Garfield. He wanted nothing to do with Hollywood and passed on the offer.
When Strasberg, Clurman, and Crawford started The Group Theatre, they invited Garfield to join them. He was cast in Clifford Odets' Awake and Sing as Ralph in 1935. Critics were taking notice of Garfield and gave him great praise in the newspapers. When Odets wrote Golden Boy with him in mind, Garfield was terribly disappointed when Luther Adler was cast in the play instead. It was made into a film in 1939 starring newcomer William Holden.
The offers from both Warner Bros. and Paramount now looked more tempting to the young actor. He chose Warner Bros and signed a standard seven-year contract which also allowed him to do stage work. His first picture was Four Daughters (1938, co-starring Claude Rains) in which he played a struggling composer. It was directed by Michael Curtiz and brought Garfield wildly positive reviews. It also brought him his first Academy Award® nomination as Best Supporting Actor and made him an instant star. Warners immediately put him into their star category of players and next cast him in They Made Me A Criminal (1939 with Ann Sheridan).
Garfield's appeal was intensely sexual, with raw animal power seething under the surface. He had an amazing grasp of his audiences because women wanted to be ravaged by him and men wanted to be him. The camera caught all of his charisma merely by his being in the scene.
Being on the same lot as Bette Davis, it was inevitable he be cast in one of her films. He played Porfirio Diaz in Juarez (1939) in Davis' extravaganza. Warners, however, sought to cast him in whatever they pleased, and Garfield bristled at the melodrama Dust Be My Destiny (1939) and a few other potboilers in the early 1940s. He ran into a few suspensions by fighting with the studio over the quality of scripts they were handing him. It was the same problem Bette Davis had had with Jack Warner in the 1930s when she fought for better scripts. Garfield got a few decent pictures made such as Sea Wolf (1941) with Edward G. Robinson and Tortilla Flat (1942) with Hedy Lamarr.
With war starting on December 7, 1941, Garfield wanted to do his patriotic duty and join the military. He was turned down because of his previous scarlet fever and heart problems. So he joined forces with fellow Warner's star Bette Davis to open the Hollywood Canteen where sailors, marines, and army personnel could come and meet stars and have free food. The boys were startled to be dancing with Marlene Dietrich, Paulette Goddard, and Dorothy Lamour. The place was a huge success during the war years. Garfield traveled overseas to entertain the troops and made several patriotic films during this period such as Destination Tokyo (1943 with Cary Grant), Air Force (1943 with Gig Young), and Pride of the Marines (1945 with Eleanor Parker).
Probably the film that most people today know him for is The Postman Always Rings Twice (1946) in which a ravishingly luscious Lana Turner persuades Garfield to murder her husband. The film caused a sensation at the time because of Turner's white, bare mid-drift shorts and bra outfit. She wore nothing but white in the film, and with her white-blonde hair, she looked like an angel (with devilish ideas). The two actors burned up the screen with their sexuality in scenes so intense they had never before been seen. The film became a classic.
He managed to rough up top star Joan Crawford in Humoresque in 1946 as well. La Crawford was a wealthy patroness of the arts and she helped struggling violinist Garfield. With Isaac Stern playing the violin on the soundtrack, Garfield looked and sounded like a genius. Musical director Franz Waxman was nominated for an Oscar. Cast members Oscar Levant, J. Carrol Naish, and Craig Stevens were happy to be in such a stellar film.
Warner Bros apparently wasn't interested in giving Garfield any decent roles. When his contract was up in 1946, he didn't renew it. He went off on his own to start his own production company.
His stock continued on high when he appeared in the Oscar-winning Best Picture Gentlemen's Agreement in 1947 for 20th Century Fox. Because the picture's theme was about anti-Semitism, Garfield was intensely interested in participating in a worthwhile film about a subject that needed to be exposed. The star of the film was La Jolla's own Gregory Peck supported by Dorothy McGuire, Celeste Holm, and Dean Stockwell.
Body and Soul (1948) was a backstage look at the seamier side of the boxing world. Garfield played an unscrupulous young boxer on his way to the top. He was nominated for an Academy Award for Best Actor, solidifying his position as one of Hollywood's top stars.
He returned to the stage in the 1949 production The Big Knife, directed by Group Theatre founder Lee Strasberg. Written by Clifford Odets, the play unearthed the private life of a Hollywood movie star. Garfield starred in the show from February to May.
The 1950s brought terror to Hollywood when the House Committee on Un-American Activities saw a communist under every bush. Unfortunately for Garfield, his wife Roberta Seidman had been a member of the Communist Party. Although there was no evidence that Garfield was ever a communist, he was called to testify. He said at the time, "I have nothing to hide and nothing to be ashamed of. My life is an open book. I am no Red. I am no 'pink.' I am no fellow traveler. I am a Democrat by politics, a liberal by inclination, and a loyal citizen of this country by every act of my life."
Unfortunately, Garfield was put on the blacklist and was barred from working at any of the studios.
In 1951 he again returned to the stage for a production of Peer Gynt, again directed by Lee Strasberg.
He made one more film before his untimely death. It was He Ran All The Way, co-starring Shelley Winters, Gladys George and Norman Lloyd. Garfield played a hoodlum on the run from the police. He hides in a girl's apartment.
Broadway called one more time in 1952. He finally got to star in Golden Boy, a play written for him by Clifford Odets in 1939. The stellar cast included Lee J. Cobb, Jack Klugman, Arthur O'Connell, Jack Warden, and Joseph Wiseman.