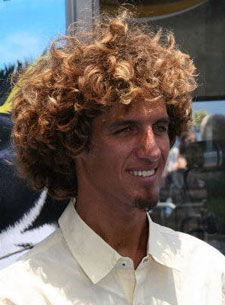 11-time world champion surfer Kelly Slater and world-class surfing legend Rob Machado will be honored by the Life Rolls On Foundation at the Night by the Ocean gala on November 10, 2012. The foundation is dedicated to assisting young people with spinal cord injuries, and the Night by the Ocean gala is their largest fundraising event. Sal Masekela has been tapped to serve as the Master of Ceremonies.
Surfing plays a huge role in the organization's quality of life programs, and through their They Will Surf Again program paraplegics and quadriplegics are able to "experience the freedom and mobility of riding a wave."
"This year's gala is incredibly meaningful to us because 2012 will mark Life Rolls On's 10(th) anniversary as a non-profit organization," stated Jesse Billauer, Founder and Director of National Outreach for Life Rolls On. "We've come a long way and Rob and Kelly have been there for our organization every step of the way. Not only were they the first to help me get back into the water after I was paralyzed, but they also chaired our inaugural They Will Surf Again adaptive surfing program that is now offered in nine cities among seven states for the paralysis community. Much of our success could be credited directly to them."
For more info on Night by the Ocean or to purchase tickets, visit
www.LifeRollsOn.org
.
Source: Life Rolls On Foundation
—
Posted by Rebecca Murray