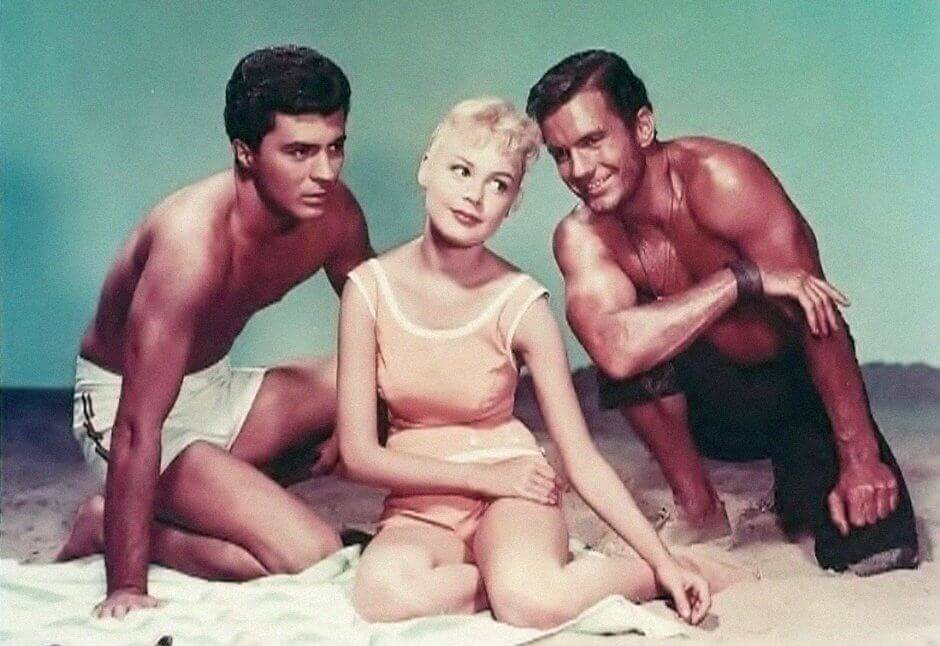 If you love teen movies of the 1960s, then you must remember Sandra Dee. She was the queen of teen films. Although under contract to Universal Studios, Columbia Pictures borrowed her in 1959 to make the classic teenage beach comedy Gidget, co-starring 23-year-old James Darren and a long-in-the-tooth Cliff Robertson at 36. Directed by Paul Wendkos, the picture also starred a young Doug McClure and pretty Yvonne Craig. The movie was a huge smash and put Sandra Dee on the Hollywood map.
But Dee didn't start out as a star. She was born with the questionable name of Alexandra Zuck, whose last name could be a disaster by changing just one letter. Bayonne, New Jersey is where she was born April 23, 1942, at the height of World War II. She was an adorable little girl and her parents introduced her to modeling at the age of 4. She also got into commercials. She became a very successful model at age 14 in New York City and was earning top dollar.
She and her family moved to Hollywood in 1957 so she could get into films. After graduating from University High School, she was "discovered." She was cast in director Robert Wise's MGM war film, Until They Sail. Filmed in New Zealand, the movie was about sisters looking for men when the Marines landed. Starring with Dee were Joan Fontaine, Jean Simmons, Piper Laurie, Paul Newman, and Charles Drake. Dee won a Golden Globe Award as the most promising newcomer of the year.
MGM was happy with her performance in Until They Sail, and they cast her in The Reluctant Debutante (1958) with handsome newcomer John Saxon, age 23 (b. 1935). Dee was a luscious 17 at the time. Also in the cast were stage and screen star Rex Harrison (My Fair Lady), Kay Kendall (Les Girls), and Angela Lansbury (Broadway's Mame). This comedy romance has Dee playing the American-raised daughter of Brit Harrison, who visits London during the debutante's ball.
Luckily for Sandra Dee, the moguls at Universal Studios noticed her performances. Hollywood legend has it that producer Ross Hunter always said he had originally discovered her in New York when she was 12! The golden-haired little teen was signed to a long-term contract by the studio in 1958, and her career was off to the heavens. Hunter then cast her again with John Saxon and Theresa Wright in The Restless Years (1958), and then in 1959 in A Stranger In My Arms with June Allyson, Jeff Chandler, Mary Astor and Virginia Grey.
The year 1959 was a watershed time for Sandra Dee. Ross Hunter cast her in the major tearjerker and glamour film, Imitation of Life. Starring as Dee's mother was the glamorous blonde star from MGM, Lana Turner. The film became Universal's highest grossing film to that time and was a world-wide sensation. It catapulted Dee into a household name, much like Turner's persona. Newcomer John Gavin played Turner's love interest. And also that year, Dee was borrowed by Columbia Pictures for the aforementioned Gidget smash.
Warner Bros. wanted to get in on some of that money-making star so they borrowed Dee as well for another hit movie, A Summer Place (1959) with then blonde heart-throb Troy Donahue, 23, as her love interest. Donahue quickly became washed up, an alcoholic and addict, and died in 2001 at age 65.
Back at Dee's home studio of Universal, producer Ross Hunter once again made a lavishly costumed epic for star Lana Turner in Portrait in Black in 1960. Dee was reunited with handsome John Saxon once again, and another hit was notched on her belt. By this time she was voted seventh biggest star of 1960.
The following year she was cavorting in the romantic comedy Romanoff and Juliet with, surprisingly, handsome John Gavin playing her love interest even though he was a bit old for Dee at age 30.
Debbie Reynolds (1932-2016) starred in Tammy and the Bachelor (1957), the first of the four features that were about the title character. It was a gigantic hit for Reynolds, and she also had a number one hit record titled "Tammy." Dee was next in line to play Tammy in Ross Hunter's 1961 version Tammy Tell Me True, again with co-star John Gavin with Virginia Grey. She was perfect for the role and the film was another big hit for Dee.
Dee, being a ripe and luscious young lady, also had a personal life. When on location in Italy for the comedy Come September, she met and fell in love with singer Bobby Darin ("Mack the Knife"), who had a part in the movie. With gorgeous co-stars such as Rock Hudson and Italian bombshell Gina Lollobrigida to inspire them, the couple got married December 1, 1960 after the film was completed. The couple subsequently added to their family with little son Dodd, who was born in December 1961. Alas, the Darins divorced in 1967.
After making another film for producer Ross Hunter in 1962 with then-husband Darin called If a Man Answers, featuring legendary Cesar Romero (The Joker on TV's Batman), Sandra Dee finished off the Tammy series with Tammy and the Doctor (1963) with Peter Fonda and comedienne Alice Pearce. Dee held her own in Hollywood by being named the 8th biggest and most popular star in America. Audiences still loved her.
Dee went over to Twentieth Century Fox studios in 1963 to star with mega-star James Stewart in another comedy, Take Her, She's Mine, co-starring TV favorite Jim Nabors (Gomer Pyle), another giant hit. She was still on top of the heap.
Producer Ross Hunter loved Dee and cast her in yet another comedy, this time with musical stars Andy Williams and Robert Goulet, plus the added comedy touch of hilarious Rip Taylor. It was titled I'd Rather Be Rich (1964). It was time for another pairing with Bobby Darin, and the film was That Funny Feeling (1965) with the wonderfully talented Donald O'Connor (Singin' In The Rain) and funny lady Kathleen Freeman. Dee plays a maid who cleans Darin's apartment, falls in love with him, and tries to pretend that his apartment is hers. It's all a funny mix-up of course.
Universal had Dee under contract for only one more movie in 1966. They cast her opposite James Garner, Greece's Melina Mercouri, and Italian-American Anthony Franciosa in the spy comedy, A Man Could Get Killed. Shot in Portugal and Rome, the visuals were stunning.
With the movie business changing and with studios no longer wishing to have stars under long-term contract, Dee was dumped by the studio. She was now on her on, a fish out of water, and no studio to protect her, nearly a washed up ingenue at 24.
She had been suffering from anorexia her whole life and she also fell into a depression because of her divorce from Bobby Darin. This led her to indulge in drinking alcohol a little too much. This did her kidneys no good.
She still worked on occasion; she did another film for Ross Hunter called Rosie in 1967 with screen legend Rosalind Russell (Auntie Mame), TV's Audrey Meadows, and that wicked witch, Margaret Hamilton. Dee plays Russell's granddaughter Daphne. Dee's character saves Russell's Rosie from being declare insane by her evil children who want her money. It turned out to be a box-office flop.
MGM still wanted her and starred her in the comedy Doctor, You've Got To Be Kidding (1967) with charming George Hamilton, Celeste Holm, Dwayne Hickman and Bill Bixby. MGM was the last major studio where Dee worked.
Her health deteriorated further and she became seen less and less around the Hollywood crowd. She remained off-screen for more than three years. Most people had forgotten who she was, and for an actor that can be career death. She took a part in a grade Z studio production of The Dunwich Horror in 1970 as a student caught up in an occult plot.
The 1970s saw Dee turning to television to get acting roles. She did such shows as Night Gallery and Love, American Style. She was hit hard by Darin's sudden death in 1973 from heart failure.
There was a three-year gap between Houston, We've Got a Problem in 1974 and Fantasy Island in 1977. She was drinking heavily and her kidneys were severely damaged. After her appearance on Police Woman in 1978 there was a five-year drought until her role on Fantasy Island in 1983. Her last feature film was a low-budget stinker called Lost, shot in Colorado. It was a box-office bomb.
The sad conclusion to what had been a stellar career as a top star ended when Sandra Dee died of kidney disease on February 20, 2005 at only 62.