The first photo released by Universal Pictures in support of Unbroken, the 2014 film adaptation of the bestseller, isn't a picture of the cast. Instead, Universal Pictures unveiled a photo of director Angelina Jolie and Louis "Louie" Zamperini, the inspirational gentleman whose story is told in Laura Hillenbrand's book, Unbroken: A World War II Story of Survival, Resilience, and Redemption.

Jolie will be directing and producing the film with Jack O'Connell starring as Zamperini. Along with the release of the photo, Universal issued a statement that provided some behind-the-scenes details on the production:
O'Connell recently spent several afternoons meeting with Zamperini at his home to hear the man he'll be portraying recount his incredible tale firsthand. Zamperini retains many keepsakes from his adventures in his home. Seeing Zamperini's World War II bomber jacket, O'Connell asked permission to put it on, which Zamperini gladly gave. The jacket fit O'Connell perfectly and became one of the first moments of him inhabiting the life of this legendary hero."
Jolie and Zamperini are neighbors in the Hollywood Hills and have grown close while working together on bringing Unbroken to the screen. According to the studio, "Zamperini gave Jolie a golden running shoe pendant, a prize from one of his earliest races, which she will wear every day as she helms the film in Australia over the coming months."

And discussing the film, Jolie was quoted as saying: "It will be hard to make a film worthy of this great man. I am deeply honored to have the chance and will do all I can to bring Louie's inspiring story to life. Everyone involved in the film shares this deep responsibility. Like all readers of Laura's book and all people who love and admire Louie, I am a fan who has learned so much. He has made me a better person."

"Angelina is a human dynamo, and I know she will tell this story in the right way," said Zamperini. "I've received so many letters and talked to so many people who say that Laura's book has helped them when they were going through hard times. I believe the movie will reach even more people with that message."

Universal plans a Christmas Day 2014 release of Unbroken in theaters.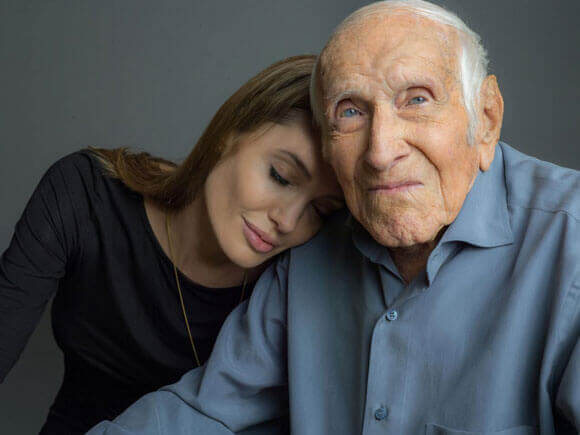 Source: Universal Pictures
Follow Us On:
Stumble It!