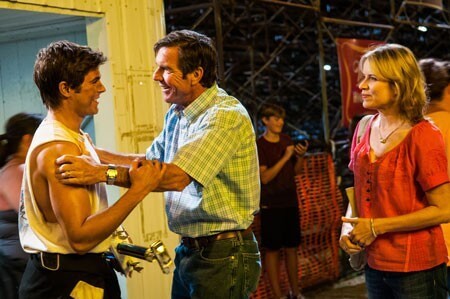 Dennis Quaid stars as a dad who appears to be bent on buying up farmland at any price, even if it means approaching the families of deceased farmers at funerals. He also doesn't want his son, played by Zac Efron, to leave the family farming business in order to pursue his dream of being a race car driver. And then there's something about bad business deals and people beating each other up. What's
At Any Price
really about, anyway? Here's the official plot:
The synopsis: In the competitive world of modern agriculture, ambitious HENRY WHIPPLE (Dennis Quaid) wants his rebellious son DEAN (Zac Efron) to help expand his family's farming empire. However, Dean has his sights set on becoming a professional race car driver. When a high-stakes investigation into their business is exposed, father and son are pushed into an unexpected crisis that threatens the family's entire livelihood.
Directed and co-written by Ramin Bahrani, the cast also includes Clancy Brown, Heather Graham, Kim Dickens, and Chelcie Ross. Sony Pictures Classics is planning a limited release of
At Any Price
beginning April 26, 2013.
Watch the trailer:
Follow Us On: