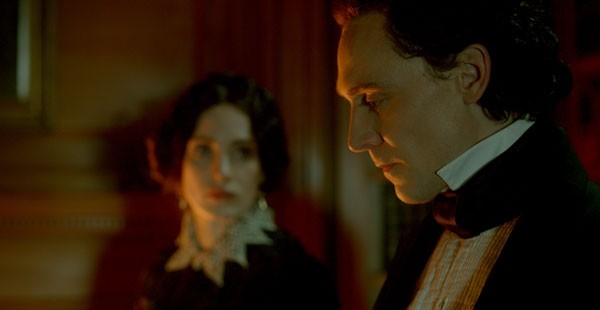 Guillermo del Toro's gothic horror film Crimson Peak is one of this year's most anticipated movies…and with good reason. Tom Hiddleston, Sons of Anarchy's Charlie Hunnam (reuniting with his Pacific Rim director), Jessica Chastain, Mia Wasikowska, and Jim Beaver lead the cast, and the genre's one in which del Toro excels. The latest trailer features Wasikowska's character learning about the haunted house she's just moved into, with Chastain's character warning her there are parts of the house she should never explore.
Legendary Pictures and Universal Pictures are releasing Crimson Peak on October 16, 2015.
The Plot:
In the aftermath of a family tragedy, an aspiring author (Wasikowska) is torn between love for her childhood friend (Hunnam) and the temptation of a mysterious outsider (Hiddleston). Trying to escape the ghosts of her past, she is swept away to a house that breathes, bleeds…and remembers.
Also of interest: Jim Beaver interview
Watch the trailer:
-By Rebecca Murray
Follow Us On: