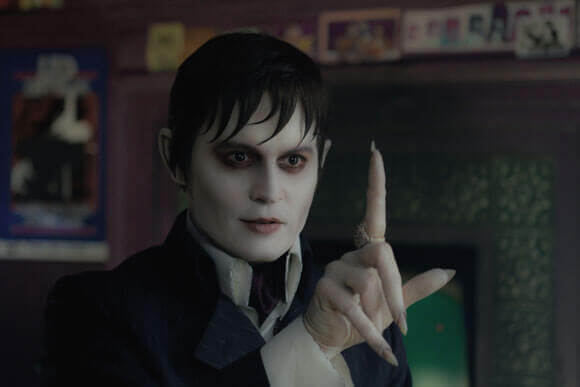 Starring: Johnny Depp, Helena Bonham-Carter and Eva Green [full cast list under the 'Cast' tab] Directed By: Tim Burton
Release Date: May 11, 2012
Running Time: 113 minutes
Genre: Comedy
MPAA Rating: PG-13 for comic horror violence, sexual content, some drug use, language and smoking
Interview:
Michelle Pfeiffer on Tim Burton and the TV series
Review:
Read the full review
Official Synopsis:
In the year 1750, Joshua and Naomi Collins, with young son Barnabas, set sail from England to start a new life in America, where they build a fishing empire in the coastal Maine town that comes to carry their name: Collinsport. Two decades pass and Barnabas (Johnny Depp) has the world at his feet. The master of Collinwood Manor, Barnabas is rich, powerful and an inveterate playboy…until he makes the grave mistake of falling in love with a beauty named Josette DuPres (Bella Heathcote) and breaking the heart of Angelique Bouchard (Eva Green). A witch in every sense of the word, Angelique dooms him to a fate worse than death—turning him into a vampire, and then burying him…alive.
Nearly two centuries later, Barnabas is inadvertently freed from his tomb and emerges into the very changed world of 1972, a stranger in an even stranger time. Returning to Collinwood Manor, he finds that his once-grand estate has fallen into ruin, and the dysfunctional remnants of the Collins family have fared little better, each harboring their own dark secrets.
Family matriarch Elizabeth Collins Stoddard (Michelle Pfeiffer) is the one person Barnabas entrusts with the truth of his identity. But his rather odd and anachronistic behavior immediately raises the suspicions of the live-in psychiatrist, Dr. Julia Hoffman (Helena Bonham Carter), who has no idea what kind of problems she's really digging up.
As Barnabas sets out to restore his family name to its former glory, one thing stands in his way: Collinsport's leading denizen, who goes by the name Angie…and who bears a striking resemblance to a very old acquaintance of Barnabas Collins.
Also residing in Collinwood Manor are Elizabeth's ne'er-do-well brother, Roger Collins, (Jonny Lee Miller); her rebellious teenage daughter Carolyn Stoddard (Chloë Grace Moretz); and Roger's precocious 10-year-old son, David Collins (Gully McGrath). The longsuffering caretaker of Collinwood is Willie Loomis (Jackie Earle Haley), and new to the Collins' employ is David's nanny, Victoria Winters (Bella Heathcote), who is, mysteriously, the mirror image of Barnabas' one true love, Josette.
[tabs style="default" title="'Dark Shadows' Resources"] [tab title="Cast"] Johnny Depp – 'Barnabas Collins'
Eva Green – 'Angelique Bouchard'
Helena Bonham Carter – 'Dr Julia Hoffman'
Chloe Grace Moretz – 'Carolyn Stoddard'
Jackie Earle Haley – 'Willie Loomis'
Bella Heathcote – 'Victoria Winters'
Gulliver McGrath – 'David Collins'
Michelle Pfeiffer – 'Elizabeth Collins Stoddard'
Jonny Lee Miller – 'Roger Collins'
[/tab] [tab title="Trailer and Videos"]
[/tab] [tab title="Photos"]
[/tab] [/tabs]