Dimension Films is debuting Dark Skies in theaters on February 22, 2013 and now they're showing off the final theatrical poster for the horror film. Written and directed by Scott Stewart (Priest, Legion), the cast includes Keri Russell, J.K. Simmons, Josh Hamilton, and Dakota Goyo.

The Plot:

From the producer of Paranormal Activity, Insidious, and Sinister comes Dark Skies: a supernatural thriller that follows a young family living in the suburbs. As husband and wife Daniel and Lacey Barret witness an escalating series of disturbing events involving their family, their safe and peaceful home quickly unravels. When it becomes clear that the Barret family is being targeted by an unimaginably terrifying and deadly force, Daniel and Lacey take matters in their own hands to solve the mystery of what is after their family.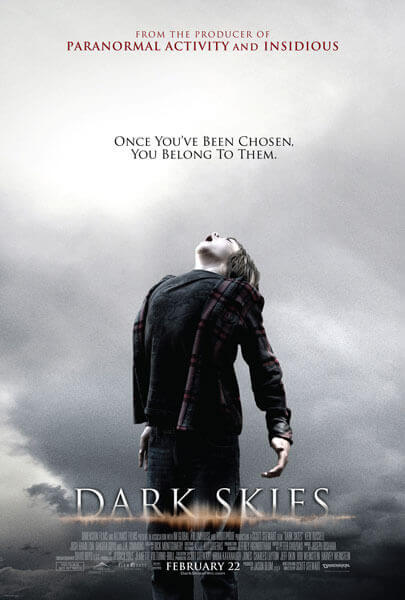 Follow Us On:
Journalist covering the entertainment industry for 19+ years, including 13 years as the first writer for About.com's Hollywood Movies site. Member of the Broadcast Television Journalists Association, Broadcast Film Critics Association, Alliance of Women Film Journalists, and President of the San Diego Film Critics Society.
Latest posts by Rebecca Murray (see all)