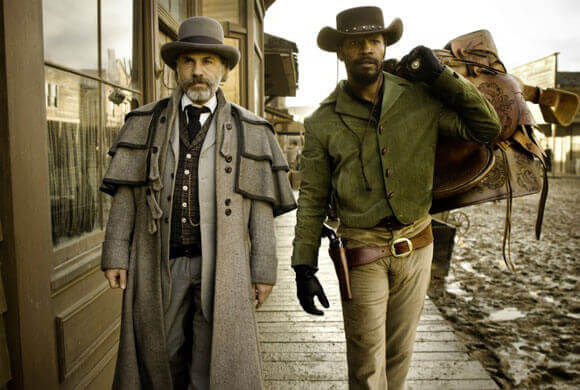 Reviewed by Ian Forbes
Quentin Tarantino has a knack for taking genre films and twisting them to meet his stylized writing and direction style. Whether it's Death Proof, Inglourious Basterds, or segments within the Kill Bill franchise, his love of cinema has translated into a career based on both paying homage and subverting different genres. That he has done so with both great critical success and widespread admiration is a testament to his ability.
With Django Unchained, Tarantino sets his sights on the Western. Django (Jamie Foxx) is a slave freed by a bounty hunter (Christoph Waltz) looking for his help in identifying some wanted men. That effort leads to a partnership and a mentor/student relationship that takes full advantage of the auteur's witty script and trademark bloody violence. I'll let those who go and see the film discover where it goes from there.
The casting is outstanding, as is usually the case with Tarantino's films. While Will Smith turned down the lead role, which was originally written for him, Foxx seems a far more suitable choice given that he's better suited for the anti-hero role. He delivers an excellent performance and the chemistry he shares with Christoph Waltz is the driving force of the movie. Speaking of which, Waltz absolutely nails his part and gives the best supporting male performance of the year. There's been buzz that he'll have to fight it out with Leonardo DiCaprio for his work opposite him but the comparison isn't close (and even I'll admit Leo did a decent job).
Although the film is titled Django Unchained, Waltz gets the movie underway and delivers his lines with such precision and style that he practically steals every scene he's in. The rest of the supporting cast do a fine job as well, with Kerry Washington making the most of her limited screen time and Samuel L. Jackson truly trusting Tarantino's vision and not holding back in his performance either.
Now, should you not be much of a Western fan, that shouldn't be a complete deal breaker. Thanks to the script and the actors' abilities to deliver its lines, this is one of the funniest movies of the year – despite the excessive violence and bloodshed that permeates most of the movie. To that end, although I recommend a trip to the restroom prior to the start of the movie (which comes in at 2 hours and 45 minutes long), make sure not to leave during a scene with the Ku Klux Klan … wow, I never thought I'd write that sentence. I laughed at that scene perhaps more than any other all year and it's just one of the many examples of Tarantino's expert craftsmanship.
Although it would make for one bloody Christmas movie, this would be my pick this holiday season (since Zero Dark Thirty is opening wide after the New Year). The performances, script, and cinematography are all excellent and you'll see this on my Top Ten list for sure. Had it not been for some pacing issues which almost create a multiple ending situation, this would have earned even more of my esteem but it still stands out as one of the best of 2012 and ranks right up there with my favorites of Tarantino's career.
GRADE: A-
Django Unchained hits theaters on December 25, 2012 and is rated R for strong graphic violence throughout, a vicious fight, language and some nudity.
Follow Us On: