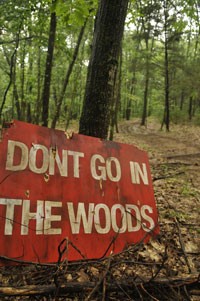 You know, if you're out in the wilderness with a bunch of friends and you stumble across a sign that says "Don't go in the woods," the most intelligent thing to do is turn around and find somewhere else to camp. But given that this is a horror film, no logic is applied to the situation.
Don't Go in the Woods
is the directorial debut of actor Vincent D'Onofrio and will debut on VOD on December 26, 2011 (followed by a limited theatrical release in January 2012).
The Story:
Vincent D'Onofrio (
Full Metal Jacket
,
Law & Order: Criminal Intent
) explores love, greed and ruthlessness in this twisted musical/horror hybrid, telling the story of a young band who heads to the woods to get away from their everyday lives in order to focus on writing new songs. Hoping to walk away from the trip with new tunes that will score them their big break, they instead find themselves in the middle of a nightmare beyond comprehension.
Watch the trailer: