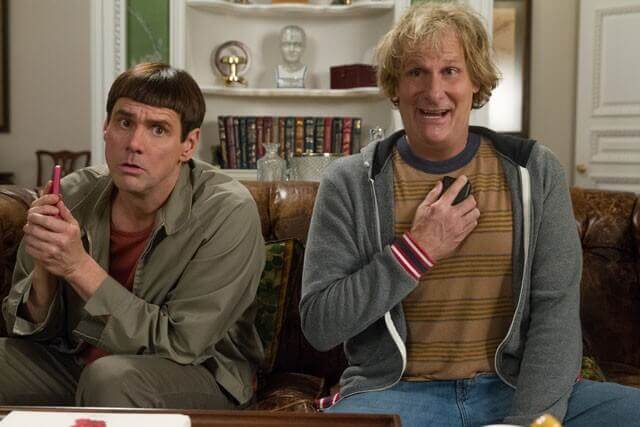 You know those movies that ruin their funniest gags by including them in the trailers? Dumb and Dumber To is one of those movies.
It's been 20 years since the release of the Farrelly Brothers' Dumb and Dumber and while this sequel is set in 2014, it feels like it's straight out of the '90s. Sequels are incredibly tricky and when you throw into the mix the fact that the original came out two decades ago, back before the target audience for the second film even learned to walk, the odds of Dumb and Dumber To being fondly remembered in 20 years like its predecessor are slim.
The original film featured Jim Carrey as Lloyd Christmas and Jeff Daniels as Harry Dunne, and the two now 50+ year-olds gamely attempt to recapture the goofiness and slapstick comedy of the 1994 film from Bobby and Peter Farrelly. In fact, the two can still pull off the physical comedy stunts and neither shy away from making complete fools of themselves in the hunt for laughs. But fond remembrances of the sheer silliness of their performances in the original film aside, Daniels and Carrey aren't capable of making the material feel fresh and worth the lengthy wait.
The story this time around kicks off with Lloyd in a mental hospital uncommunicative and unable to care for himself. Harry faithfully visits his friend, even changing his BFF's diapers (and yes, there's a disgusting scene of him performing that task) and helping to feed his buddy who's incapable of doing anything for himself. But then one day Harry announces he's not going to be visiting for a while which leads Lloyd to confessing it's all been one big joke and that his 20 year stay in the mental hospital was an elaborate prank.
Back at their apartment where Harry's new roommate cooks meth (a scene straight out of Breaking Bad but featuring a surprise cameo by a Farrelly brother player), Harry lets Lloyd know that he needs a kidney transplant or else he'll die. Lloyd doesn't volunteer his own but does volunteer to set out on a search to track down the daughter Lloyd never knew he had in hopes of talking her into donating a kidney to the dad she's never seen before.
Dumb and Dumber also found the clueless buddies on the road tracking down a stranger, so the sequel's plot is traversing very familiar territory. The gross-out comedy, fart jokes, and potty humor are also all familiar, although the tone in the sequel is more mean-spirited than the original film's. It took six writers to come up with the screenplay, a bizarre fact given that the sequel feels like a reworked retread of everything that worked in Dumb and Dumber. Unfortunately, the sequel's many writers relied far too heavily on lifting and shifting gags from the '94 comedy.
However, the first half of the film does offer a few jokes that work well including a bit with Harry learning he was adopted, a fact which given the nationality of his parents should have been apparent to him from the get-go. Also working in the sequel's favor are scene-stealing performances by Rob Riggle and Rachel Melvin, the perky actress who plays Harry's dimwitted but adorable daughter.
Carrey and Daniels are still fun to watch on screen playing off of each other, it's just too bad they weren't given a better script to work with. Try as they might, they just can't make this one generate many laughs.
GRADE: C+
Dumb and Dumber To is rated PG-13 for crude and sexual humor, partial nudity, language and some drug references.
-By Rebecca Murray
Follow Us On: