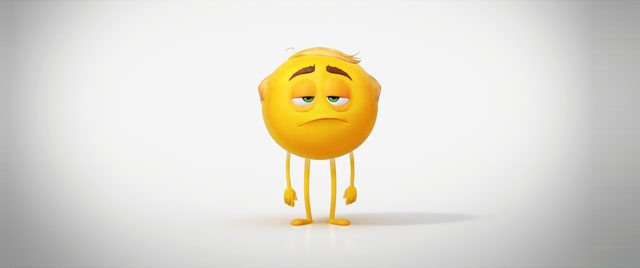 Sony Pictures Animation's The Emoji Movie just released a teaser trailer with Mel Meh (you know, the Meh emoji) providing the narration. Steven Wright voices Meh, T.J. Miller is Gene, James Corden provides the voice of Hi-5, and Ilana Glazer is Jailbreak in the animated comedy from director Tony Leondis. Audiences can expect to see all the familiar emojis, including poop, pop up in the comedy which is heading to theaters on August 4, 2017.
Commenting on the film, director Tony Leondis said, "Everyone – from your preschooler to your grandmother – sends emojis every day to share love, frustration, happiness… We all have an immediate connection with these icons that we send out as ways to express ourselves, and it paved the way for a very rich story and characters that audiences of all ages and backgrounds will be able to relate to."
The Plot: The Emoji Movie unlocks the never-before-seen secret world inside your smartphone. Hidden within the messaging app is Textopolis, a bustling city where all your favorite emojis live, hoping to be selected by the phone's user. In this world, each emoji has only one facial expression – except for Gene (T.J. Miller), an exuberant emoji who was born without a filter and is bursting with multiple expressions. Determined to become "normal" like the other emojis, Gene enlists the help of his handy best friend Hi-5 (James Corden) and the notorious code breaker emoji Jailbreak (Ilana Glazer). Together, they embark on an epic "app-venture" through the apps on the phone, each its own wild and fun world, to find the Code that will fix Gene. But when a greater danger threatens the phone, the fate of all emojis depends on these three unlikely friends who must save their world before it's deleted forever.
Watch The Emoji Movie trailer: