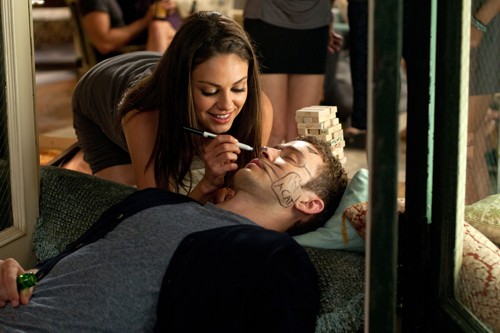 Friends with Benefits isn't the first movie to use the set-up of friends becoming sexual without being in a romantic relationship. It's not even the first movie released in 2011 with that plotline (that honor goes to No Strings Attached). But it does feature a couple of charismatic actors who could help win over skeptical audiences.
Starring: Mila Kunis, Emma Stone, and Justin Timberlake [full cast list under the 'Cast' tab] Directed By: Will Gluck
Release Date: July 22, 2011
Genre: Romantic comedy
Running Time: 120 minutes
MPAA Rating: R for sexual content and language
Official Synopsis: Dylan (Justin Timberlake) and Jamie (Mila Kunis) think it's going to be easy to add the simple act of sex to their friendship, despite what Hollywood romantic comedies would have them believe. They soon discover however that getting physical really does always lead to complications.
[tabs style="default" title="'Friends with Benefits' Resources"] [tab title="Cast"] Mila Kunis – 'Jamie'
Justin Timberlake – 'Dylan'
Patricia Clarkson – 'Lorna'
Jenna Elfman – 'Annie'
Bryan Greenberg – 'Parker'
Richard Jenkins – 'Mr Harper'
Woody Harrelson – 'Tommy'
Emma Stone – 'Kayla
Nolan Gould – 'Sam'
Andy Samberg – 'Quincy'
Masi Oka – 'Darin Arturo Morena'[/tab]
[tab title="Trailer and Clips"]
[/tab] [tab title="Photos"]
[/tab] [/tabs]