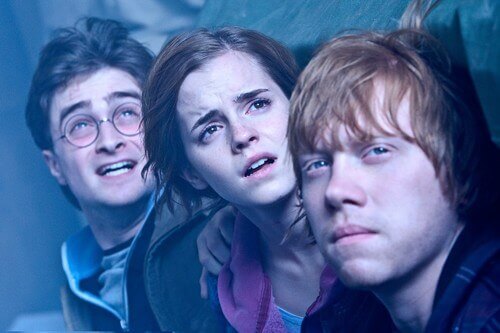 The
Harry Potter
franchise wraps up with
Harry Potter and the Deathly Hallows Part 2
which brings to life the second half of the final book of the series.  The final film is also the first of the series to be released in 3D.
Starring: Daniel Radcliffe, Emma Watson and Rupert Grint [full cast list under the 'Cast' tab] Directed By: David Yates
Release Date: July 15, 2011
Genres: Fantasy, action, drama
Running Time: 118 minutes
MPAA Rating: PG-13 for some sequences of intense action violence and frightening images
Reviews – By
Ian Forbes
/ By
Kevin Finnerty
Recap:
A look back at all the Harry Potter films
News:
Potter fans prepare for a Very Potter 3D
News: Harry Potter exhibition returns to
Times Square
Official Synopsis:
In
Part 2
of the epic finale, the battle between the good and evil forces of the Wizarding world escalates into an all-out war. The stakes have never been higher and no one is safe. But it is Harry Potter who may be called upon to make the ultimate sacrifice as he draws closer to the climactic showdown with Lord Voldemort. It all ends here.
Interviews:
Daniel Radcliffe on finishing up the Harry Potter franchise
Emma Watson on growing up with Hermione
Alan Rickman on Snape's agenda
Ralph Fiennes on evil people
Box Office:
Deathly Hallows 2 shatters records
[tabs style="default" title="'Deathly Hallows Part 2' Resources"] [tab title="Cast"]
Daniel Radcliffe – 'Harry Potter'
Emma Watson – 'Hermione Granger'
Rupert Grint – 'Ron Weasley'
Evanna Lynch – 'Luna Lovegood'
Bonnie Wright – 'Ginny Weasley'
Matthew Lewis – 'Neville Longbottom'
Alan Rickman – 'Severus Snape'
Michael Gambon – 'Professor Dumbledore'
Robbie Coltrane – 'Hagrid'
Tom Felton – 'Draco Malfoy'
Maggie Smith – 'Minerva McGonagall'
Helena Bonham Carter – 'Bellatrix Lestrange'
Ralph Fiennes – 'Lord Voldemort'
Jason Isaacs – 'Lucius Malfoy'
James Phelps – 'Fred Weasley'
Oliver Phelps – 'George Weasley'
Julie Walters – 'Molly Weasley'
Mark Williams – 'Arthur Weasley'
Clemence Poesy – 'Fleur Delacour'
David Thewlis – 'Remus Lupin'
Natalia Tena – 'Nymphadora Tonks'
Warwick Davis – 'Flitwick'
Domhnall Gleeson – 'Bill Weasley'[/tab]
[tab title="Trailer and Clips"]
[/tab] [tab title="Photos and Posters"]
[/tab] [/tabs]