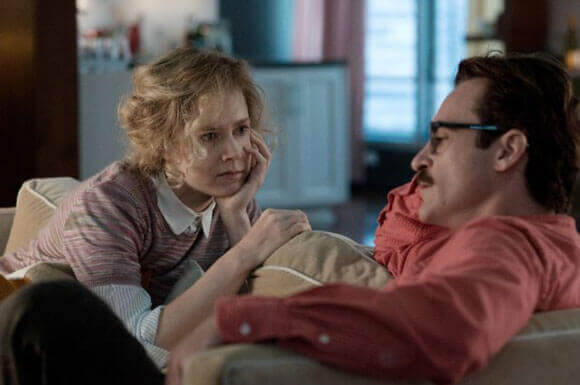 Reviewed by Kevin Finnerty
"How long before you're ready to date? I saw in your emails you've gone through a break up," asks Samantha (Scarlett Johansson), an advanced computer operating system. "Well, you're kind of nosy," replies Theodore (Joaquin Phoenix), a lonely writer who purchased Samantha to help him organize his life in the romantic drama,
Her
.
Set in a near future where advanced computer systems are able to handle a person's every need, Theodore is still pining for his ex-wife, putting off signing the divorce papers even though it's been a year since they've been together. Feeling a bit overwhelmed and incredibly lonely, Theodore purchases a brand new computer operating system to help him get organized and to have someone to talk to.
At first, Samantha – a name the operating system gave to herself – is all business, deleting old and unimportant e-mails, reminding Theodore about meetings and appointments, and handling all his voice mails. But since Samantha is a cognitive system that's continuously evolving and constantly adapting and becoming more aware of new ideas and emotions, it's not long before her conversations with Theodore start becoming personal. Soon Theodore finds himself falling for Samantha and she/it seems to be having feelings for him.
Directed by
Spike Jonze
(
Adaptation
,
Where the Wild Things Are
),
Her
is a sci-fi, romantic, comedy/drama that has two solid performances but a plot that feels old and tired. Joaquin Phoenix delivers a solid performance as Theodore, a shy, lonely man who misses terribly being in a happy relationship and doesn't believe he can find true love again. He's a sad soul who begins to try to reach out to someone, even if it is his computer.
Scarlett Johansson is the best thing about the film as the voice of Samantha, the operating system who at first seems to be just what Theodore needed in his depressing and empty life. But as she/it evolves, she starts to become a jealous and even threatening presence…Hello Ms. Hal 9000. Johansson brings a wonderfully sexy and cute personality to Samantha and gives the operating system more personality than any of the human roles in the film.
Her
look is a bit sterile, almost as though the city had gone through a medical cleansing process, and that adds to the bland and unappealing non-personalities in the film, which becomes part of the movie's problem. None of the characters seem to have any real depth and thus are uninteresting and boring. The other big problem with the film is the lack of originality of the plot. This is not the first time on the big screen – or the small – a character falls for/becomes obsessed/dependent on his computer. This has been done before and it's just not that interesting to watch Phoenix as Theodore have a weird and unusual relationship with his computer secretary.
Although it is slow and predictable,
Her
does have a sweetness to the high-tech romance that will have the male audience wishing their computer sounded and acted like Scarlett Johansson in the first half of the film and extremely happy they don't by the time the credits roll.
GRADE: C
Her
is rated R for language, sexual content and brief graphic nudity.
Follow Us On:
Stumble It!