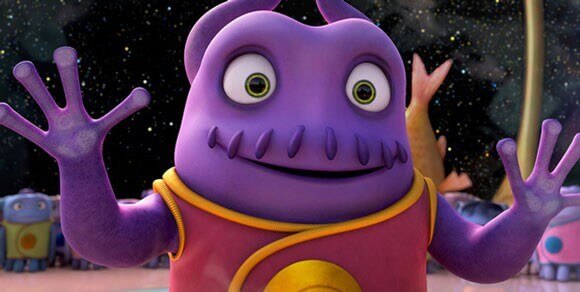 DreamWorks Animation has put out this "Almost Home" short in support of the November 2014 release of the animated movie
Home
. The short and the feature film feature the voice of Steve Martin as Captain Smek, the leader of a pack of cute aliens looking for a new planet to call their home. The short film provides the backstory on the aliens and shows them planet shopping, without having much luck.
The voice cast also includes Jim Parsons, Rihanna, and Jennifer Lopez. The animated family comedy film is based on the book
The True Meaning of Smekday
by Adam Rex and is directed by Tim Johnson (
Antz
,
Over the Hedge
).
Home
opens in theaters on November 26, 2014.
The Plot:
When Earth is taken over by the overly-confident Boov, an alien race in search of a new place to call home, all humans are promptly relocated, while all Boov get busy reorganizing the planet. But when one resourceful girl, Tip (Rihanna), manages to avoid capture, she finds herself the accidental accomplice of a banished Boov named Oh (Jim Parsons). The two fugitives realize there's a lot more at stake than intergalactic relations as they embark on the road trip of a lifetime.
Watch the video:

-Posted by Rebecca Murray
Follow Us On:
Stumble It!