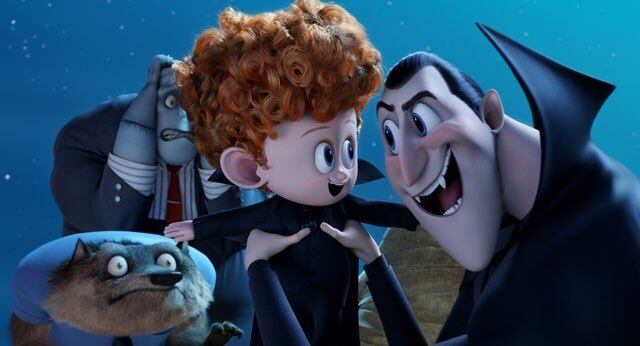 "We've got to teach this kid how to be a monster. If we get his fangs to come out, Mavis can't leave," says Dracula (voiced by Adam Sandler). Drac's counting on his monster buddies to help him get his grandson Dennis to sprout fangs in the animated comedy sequel, Hotel Transylvania 2.
Things have changed drastically at Hotel Transylvania since we first visited the secret monster vacation destination. Human guests are allowed to interact with all the monsters after Dracula had a big change of heart towards humans since his daughter, Mavis (voiced by Selena Gomez), married the human, Jonathan (voiced by Andy Samberg). And now that Drac has become a "Vampa," he has gone bat happy. But nearing his grandson's fifth birthday Drac starts to worry because if Dennis doesn't grow his vampire fangs and show other signs of being a vampire, Mavis has said it might be best to move away from the hotel and live in California near Jonathan's parents so Dennis can grow up with other human kids.
Desperate not to lose both his daughter and his grandson to the sunny state, Dracula comes up with a plan. While Mavis goes out to California with Jonathan to visit his parents and experience life around humans for herself, Drac enlists the help of his friends Franky (voiced by Kevin James), Wayne the Werewolf (voiced by Steve Buscemi), Murray the Mummy (Voiced by Keegan-Michael Key), and Griffin the Invisible Man (voiced by David Spade) to put little Dennis through a "monster-in-training" boot camp to scare the fangs right out from him and teach him how to turn into a bat.
With laugh-out-loud sight gags, a stronger story, and tighter pacing, Hotel Transylvania 2 accomplishes something most sequels fail at – it surpasses the original film. All the original voice cast are back and they're much better and funnier the second time around as they toss out some great one-liners. Adam Sandler is still the only member of the cast trying to put on a bit of the "classic" Dracula sounding voice; the rest use their own voices, steering away from the classic stereotyped sound.
The film is bright and colorful and never runs out of chaotic visual antics. However, the use of 3D is fairly ineffective and adds zero to the action up on the screen so it's not necessary to spend the extra money at the box office to see it in that format. The writing is much sharper and wittier this time out. A perfect example of this is when Drac tells Frankenstein to go scare two young ladies out for their nightly jog so Dennis can see how to scare someone. Franky replies "What, who me? Uh, but uh I don't think I remember how," and when he tries the two young women smile and shout, "Oh Frankenstein, we just love you! Can we take a selfie with you, please?" and flattered Franky readily poses with the women while Drac just shakes his head in disgust.
The film also has a good, solid message for children about learning to be true to yourself and not to pretend to be something you aren't for anyone. Fortunately, the message is delivered without getting preachy or heavy-handed.
With a strong script, solid pacing, some truly hilarious one-liners, and crazy, outrageous visual goofiness, Hotel Transylvania 2 is a sequel moviegoers should check into for a frightful good time for the entire family.
GRADE: B
MPAA Rating: PG for some scary images, action and rude humor
Running Time: 89 minutes
Directed By: Genndy Tartakovsky
Follow Us On: