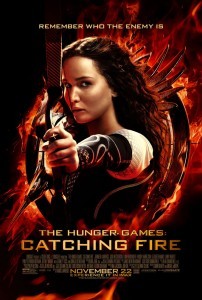 We're less than a month out from the release of the second film of The Hunger Games franchise, The Hunger Games: Catching Fire, and Lionsgate's just revealed this brand new trailer. The new video shows more of Katniss (Jennifer Lawrence) in the new edition of the Hunger Games while we hear Donald Sutherland as President Snow (boo-hiss!).

The cast also includes Josh Hutcherson, Liam Hemsworth, Elizabeth Banks, Sam Claflin, Woody Harrelson, Stanley Tucci, and Jena Malone. Directed by Francis Lawrence, The Hunger Games: Catching Fire hits theaters on November 22, 2013.

The Plot:

The Hunger Games: Catching Fire begins as Katniss Everdeen has returned home safe after winning the 74th Annual Hunger Games along with fellow tribute Peeta Mellark. Winning means that they must turn around and leave their family and close friends, embarking on a "Victor's Tour" of the districts. Along the way Katniss senses that a rebellion is simmering, but the Capitol is still very much in control as President Snow prepares the 75th Annual Hunger Games (The Quarter Quell) – a competition that could change Panem forever.

Watch the trailer:



-Posted by Rebecca Murray
Follow Us On:
Stumble It!