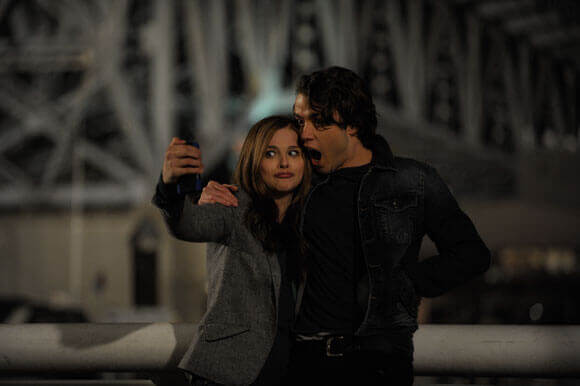 2014's already delivered one of the most faithful adaptations of a bestselling young adult novel ever to hit the screen in The Fault in Our Stars, and now comes If I Stay hoping to follow suit and capture box office gold as well as the hearts of audiences. Both tearjerkers deal with teenagers in love who are dealt rotten hands. Cancer killed any shot the lovebirds had at a lasting relationship in the beautifully tragic tale The Fault in Our Stars, and the possibility of a lead character dying young is also placed and front center in If I Stay, an adaptation of the successful young adult novel by Gayle Forman.
The Fault in Our Stars worked brilliantly onscreen due in large part to the charismatic Shailene Woodley (who shows her action hero side in the Divergent series). Woodley moved the audience to tears with her performance as a high school student who falls, reluctantly, completely and totally in love with a handsome fellow cancer patient (played by her Divergent brother, Ansel Elgort) she meets in a support group. If I Stay has Chloe Grace Moretz, an actress who's transitioning from kid sister-type characters to take on lead roles, as the teen who's faced with her own mortality at an age when the most intense, life-changing decision she should have to make is which college to attend. The fact If I Stay works as well as it does despite being manipulative with, at times, some groan-inducing dialogue is because of Moretz' earnest portrayal of a teenager torn between worlds.
The Story:
The trailers give away the basics of the plot which finds Mia (Moretz) fighting for her life after a devastating car accident leaves her critically injured and in intensive care, balanced precariously between life and death with her spirit wandering the halls of the hospital, her mind wavering back and forth on whether it's best to give up and leave this world or fight to stay. While Mia races around the halls looking for her family and friends, the audience learns through a series of flashbacks all about her relationship with her parents, the close bond she has with her BFF, and the connection she's made with the first serious boyfriend she's ever had.
Mia's dad was a member of a local rock band who gave up his dreams of becoming a rock star to settle down in a serious job, a decision he made after sitting outside Mia's bedroom door and listening to her practice hours on end on a borrowed cello. Mia's mom is an ex-groupie, a free-spirited earth mother who treats her daughter like a cherished friend. And as for that first boyfriend, Adam's (Jamie Blackley) that hunky musician who seems unobtainable, that guy who roams the hallways at high school and causes conversations to stop until he passes by. He doesn't pay attention to the effect he has on the opposite sex and he doesn't pursue any of the girls who whisper about him behind his back. Instead, he's attracted exclusively to the one girl who shares in the knowledge that music is life.
He's a rocker, she's a classical Yo Yo Ma-loving cello player, and they don't have much in common outside of their desire to express themselves through music. But that doesn't matter as Mia does her best to fit into the Portland, Oregon band scene that Adam's a part of and Adam does his part by occasionally ditching that scene to try and fit in in Mia's world.
While Mia lies still in intensive care, hooked up to tubes and dependent on a machine to breathe, a nurse (played by Aisha Hinds) bends over her body and tells her she had better fight if she wants to live. And as her life plays out in flashbacks, it's obvious she has so much to live for including a future with the guy who's stolen her heart. But it's also obvious that if she does will her body to battle back against the injuries she's sustained, the life she had planned will not be the life she'll ultimately live.
The Bottom Line:
The chemistry between Moretz and Blackley is fine, although there are times Moretz seems uncomfortable and unsure of what she's trying to convey. She also occasionally seems too young for the relationship onscreen, even though she's the right age to play Mia. Blackley's 23 now and while that's older than his character, it's not that big of an age difference (unlike some of the actors in Glee). Still, there are moments onscreen when the age difference seems greater than the one year difference there's supposed to be between Mia and Adam.
Moretz drives the film and she's in almost every scene, including the cello performances that she admits she faked her way through but which look genuinely impressive. And while the bulk of the responsibility for If I Stay's success rests on her shoulders, she's fortunate to be able to play off of a terrific supporting cast that includes Mireille Enos as her mom, Joshua Leonard as her dad, Stacy Keach as her grandfather, and the scene-stealing Liana Liberato who plays her supportive, wise-cracking best friend. If I Stay could have used more of Liberato and less of the mom and dad scenes as they come across as the type of parents you only see in films. After the first few interactions between Mia and her parents, it's hard to swallow them as a real family.
However, despite some contrived moments that are too melodramatic and the occasional dip into sappiness, If I Stay does weave its way into your heart. Teens and young adults should find themselves in need of a tissue or two and there's a sweet love story that makes If I Stay into a decent date movie for those ready to invest in an emotionally heart-wrenching tale.
GRADE: B-
If I Stay is rated PG-13 for thematic elements and some sexual material.
-By Rebecca Murray
Follow Us On: