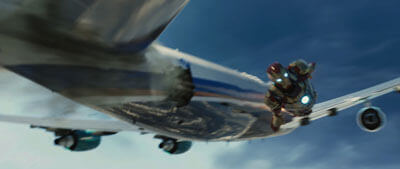 Why didn't Marvel Studios just release this
Iron Man 3
trailer during the 2013 Super Bowl rather than the tiny sneak peek of it they did choose to show off during the big game? This trailer's much more effective, but on game day it was only available by visiting the movie's Facebook page. Now the studio's released the extended trailer (which includes the clip shown on Super Bowl Sunday) and it does a much better job of selling the action movie than what the studio displayed during the Super Bowl.
Iron Man 3
will arrive in theaters on May 3, 2013 and stars Robert Downey Jr., Gwyneth Paltrow, Don Cheadle, Guy Pearce, Rebecca Hall, Stephanie Szostak, James Badge Dale, Jon Favreau and Ben Kingsley.
The Plot:
Marvel's
Iron Man 3
pits brash-but-brilliant industrialist Tony Stark/Iron Man against an enemy whose reach knows no bounds. When Stark finds his personal world destroyed at his enemy's hands, he embarks on a harrowing quest to find those responsible. This journey, at every turn, will test his mettle. With his back against the wall, Stark is left to survive by his own devices, relying on his ingenuity and instincts to protect those closest to him. As he fights his way back, Stark discovers the answer to the question that has secretly haunted him: does the man make the suit or does the suit make the man?
Watch the trailer:
—
Posted by Rebecca Murray
Follow Us On: