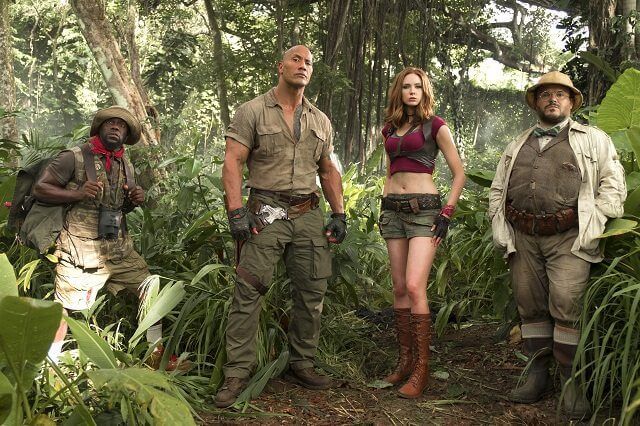 A new trailer's arrived for Sony Pictures' Jumanji: Welcome to the Jungle, the sequel to 1995's Jumanji which starred Robin Williams and Bonnie Hunt. The new film finds the board game affecting a whole new batch of players, catapulting teens into the world of the game as their adult avatars.
Directed by Jake Kasdan, the cast includes Dwayne Johnson, Jack Black, Kevin Hart, Karen Gillan, Nick Jonas, and Bobby Cannavale. Chris McKenna, Erik Sommers, Scott Rosenberg, and Jeff Pinkner wrote the script based on Chris Van Allsburg's novel, Jumanji. Matt Tolmach and William Teitler produced, with Dwayne Johnson, Jake Kasdan, David Householter, Dany Garcia, Ted Field and Mike Weber executive producing.
Jumanji: Welcome to the Jungle opens in theaters on December 20, 2017.
The Plot: In the brand new adventure Jumanji: Welcome to the Jungle, the tables are turned as four teenagers in detention are sucked into the world of Jumanji. When they discover an old video game console with a game they've never heard of, they are immediately thrust into the game's jungle setting, into the bodies of their avatars, played by Dwayne Johnson, Jack Black, Kevin Hart, and Karen Gillan. What they discover is that you don't just play Jumanji – Jumanji plays you. They'll have to go on the most dangerous adventure of their lives, or they'll be stuck in the game forever…