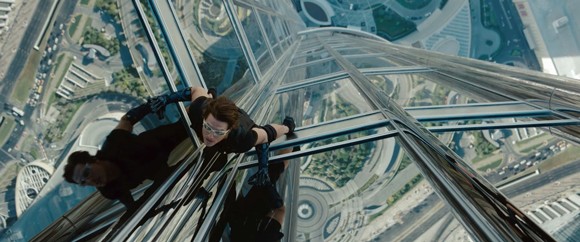 Sitting down to write this review, one thing is abundantly clear. No matter what I write, it will not be as good as the stream of consciousness splattering that Mission: Impossible 3 received.
However, before even thinking of going to the theaters to see Tom Cruise run and climb in Mission: Impossible – Ghost Protocol, it's important to note that one need only have seen numero tres in order to know what's going on. The first film has no bearing on things, and John Woo's slow-motion touches in #2 seem to be something the producers want audiences to forget all together. But the characters in the third installment do factor into things here so there's that to consider.
As for the successfulness of Ghost Protocol, it ticks most of the boxes one would expect from a summer blockbuster. Wait, they're releasing this at Christmas? No competition from other action films then, huh? Whatever, the point is that if you go into the film with expectations as low as you would some popcorn muncher in July, you'll do fine.
The plot this time around deals with a madman (Michael Nyqvist) intent on starting global thermonuclear war but having no access to the W.O.P.R. must instead get his hands on nuclear launch codes and a communications satellite. In the course of things, our heroes are disavowed and must do it all without getting apprehended by the Russians who believe they're the bad guys. It's all very matter-of-fact and predictable but one doesn't see films like this for originality or surprises.
There are some excellent set pieces and stunts, even though a few of them rival Twister and Ghost Ship for believability. One of the final action scenes could have been trimmed (how slippery can a briefcase be?) and Cruise once again scales a giant thing; this time in the form of Dubai's Burj Khalifa, the tallest building in the world – so all you climbers get excited (or not as the case may be). In other words, this is a Mission: Impossible film with Tom Cruise.
To round out his team, the eye candy comes from Paula Patton. She's feels less genuine in the ass-kicking department than Mi3's Maggie Q, but in one scene wears a green dress that may necessitate napkins to wipe up the drool from male audience members so that's a push. Simon Pegg returns as the plucky comic relief, and even gets to use a gun. Most important to the future of the franchise is the addition of Jeremy Renner. He's been tapped to take over, or at least do all the heavy lifting, once Cruise has had enough running and climbing.
And with that in mind, if you've seen the trailer and like what you saw, enjoy your 133 minutes in a theater (yes, some editing would have been appreciated). Director Brad Bird, best known for his work at Pixar, transitioned over well enough to live-action and if you live near an IMAX theater (REAL IMAX, not just a slightly larger screen with the appropriate dimensions), then this is worth seeing in the format. Of course there are some scenes where the dialogue is cheesy and terrible but you get what you expect out of Mission: Impossible – Ghost Protocol, and if you don't expect much, you'll have a good time.
GRADE: C+
Mission: Impossible – Ghost Protocol hits theaters in wide release on December 21, 2011 and is rated PG-13 for sequences of intense action and violence.
More on Mission: Impossible – Ghost Protocol:
—Photo gallery
—Trailer, news and cast list