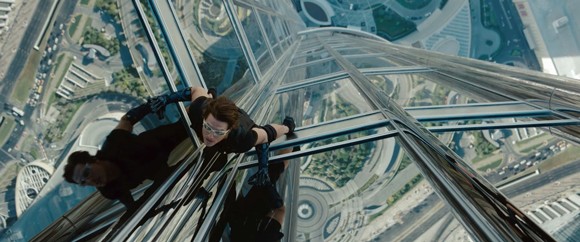 Tom Cruise is back for his fourth outing as Agent Ethan Hunt in
Mission: Impossible – Ghost Protocol
.
Starring: Tom Cruise, Paula Patton, and Jeremy Renner [full cast list under the 'Cast' tab] Directed By: Brad Bird
Release Date: December 21, 2011
Genres: Action, drama
MPAA Rating: PG-13 for sequences of intense action and violence
Video:
Simon Pegg featurette
Review:
Read the full review
Official Synopsis:
This is not just another mission. 

The IMF is shut down when it's implicated in a global terrorist, bombing plot. Ghost Protocol is initiated and Ethan Hunt and his rogue new team must go undercover to clear their organization's name. No help, no contact, off the grid. You have never seen a mission grittier and more intense than this.

[tabs style="default" title="'Mission: Impossible – Ghost Protocol' Resources"] [tab title="Cast"] Tom Cruise – 'Ethan Hunt'
Jeremy Renner – 'William Brandt'
Paula Patton – 'Jane Carter'
Simon Pegg – 'Benji Dunn'
Anil Kapoor – 'Brji Nath'
Michael Nyqvist – 'Kurt Hendricks'
Vladimir Mashkov – 'Anatoly Sidirov'
Lea Seydoux – 'Sabine Moreau'
Tom Wilkinson – 'IMF Secretary
[/tab]
[tab title="Trailer and Clips"]
[/tab] [tab title="Photos"]
[/tab] [/tabs]