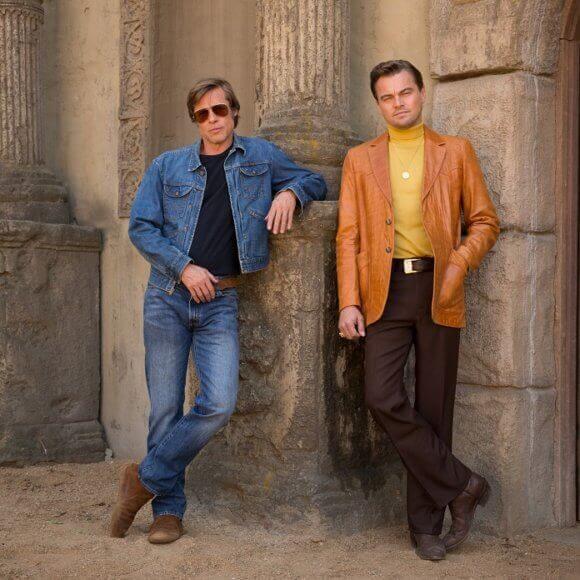 Leonardo DiCaprio released the first photo from Once Upon a Time in Hollywood via Instagram, followed by the photo's official release by Sony Pictures. The first look at the drama shows Brad Pitt and Leonardo DiCaprio in '60s attire casually posing for the camera.
The film marks Quentin Tarantino's ninth movie and as with his past films, he's assembled a cast of well known actors to fill out the large ensemble project. In addition to Brad Pitt and Leonardo DiCaprio, the cast includes Margot Robbie (I, Tonya), Al Pacino (The Pirates of Somalia), Timothy Olyphant (Santa Clarita Diet), Luke Perry (Riverdale), Damian Lewis (Billions), Dakota Fanning (The Alienist), Tim Roth (The Hateful Eight), Emile Hirsch (The Autopsy of Jane Doe), Clifton Collins Jr (Westworld), Scoot McNairy (Halt and Catch Fire), Keith Jefferson (Django Unchained), Nicholas Hammond (The Rage in Placid Lake), and Michael Madsen (Reservoir Dogs).
Margot Robbie plays actress/murder victim Sharon Tate. Al Pacino is Marvin Shwarz and Dakota Fanning plays Manson family member, Squeaky Fromme. Damian Lewis is Steve McQueen and Emile Hirsch tackles the role of Jay Sebring, one of the Manson Family's murder victims.
Tarantino wrote and directed Once Upon a Time in Hollywood. He also produces with David Heyman and Shannon McIntosh. Georgia Kacandes is on board as an executive producer.
Sony Pictures will be releasing the crime drama in theaters on August 9, 2019.
The Plot: Quentin Tarantino's ninth feature film is a story that takes place in Los Angeles in 1969, at the height of hippy Hollywood. The two lead characters are Rick Dalton (Leonardo DiCaprio), former star of a western TV series, and his longtime stunt double Cliff Booth (Brad Pitt). Both are struggling to make it in a Hollywood they don't recognize anymore. But Rick has a very famous next-door neighbor…Sharon Tate.