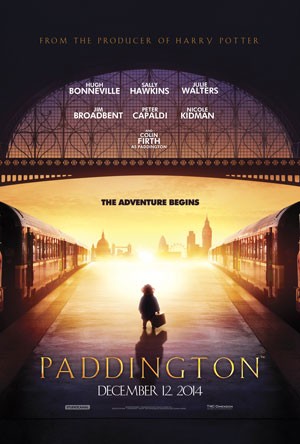 "A young explorer must find his way in a strange new land" – the "young explorer" being a bear named Paddington and the "strange new land" being London. The Weinstein Company has just released this lengthy new trailer for the CG/live-action hybrid Paddington, based on the book series by Michael Bond. Colin Firth lends his voice to the adorable bear while Nicole Kidman gets evil as the film's villain, Millicent. The cast also includes Jim Broadbent, Julie Walters, Sally Hawkins, and Hugh Bonneville.
Paddington will open in theaters on December 12, 2014.
The Plot:
Paddington tells the story of the comic misadventures of a young Peruvian bear (voiced by Firth) who travels to the city in search of a home. Finding himself lost and alone, he begins to realize that city life is not all he had imagined – until he meets the kindly Brown family who read the label around his neck that says "Please look after this bear. Thank you," and offer him a temporary haven. It looks as though his luck has changed until this rarest of bears catches the eye of a museum taxidermist.
Watch the trailer:
-By Rebecca Murray
Follow Us On:
Stumble It!