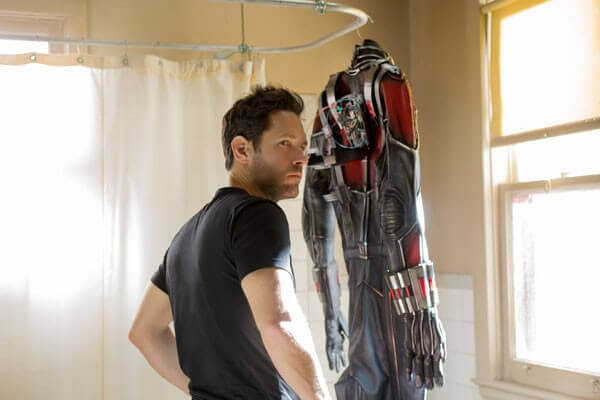 Paul Rudd earned the 2015 Male Star of the Year award at CinemaCon, the annual gathering of National Association of Theater Owners members held each year in Las Vegas. Rudd was chosen for the honor by the group because of his leading role in Marvel's Ant-Man which opens in theaters on July 17, 2015. "With an already proven track record of making audiences around the world laugh with his memorable roles in such films as Knocked Up, Anchorman: The Legend of Ron Burgundy and The 40 Year Old Virgin, Rudd will thrill audiences this summer as he stars in his first action adventure film Ant-Man," explained Mitch Neuhauser, Managing Director of CinemaCon.
Prior to accepting the award at the Big Screen Achievement Awards ceremony at Caesars Palace, Rudd took part in a brief press conference to discuss the comic book-inspired film. Rudd talked about the costume, the appeal of Ant-Man, the film's tone, and the joke about the name Ant-Man that's featured in the film's trailer.
Watch the interview:
The Plot:
The next evolution of the Marvel Cinematic Universe brings a founding member of The Avengers to the big screen for the first time with Marvel Studios' Ant-Man. Armed with the astonishing ability to shrink in scale but increase in strength, master thief Scott Lang must embrace his inner-hero and help his mentor, Dr. Hank Pym, protect the secret behind his spectacular Ant-Man suit from a new generation of towering threats. Against seemingly insurmountable obstacles, Pym and Lang must plan and pull off a heist that will save the world.
Follow Us On: