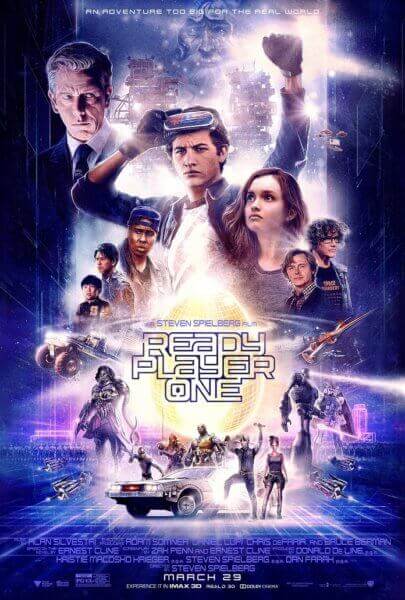 Warner Bros Pictures' new poster for the sci-fi action adventure Ready Player One is reminiscent of movie posters from the 1980s, in particular those created by artist Drew Struzan. The new poster's stylish and classic, and doesn't suffer from the extended leg problem of the film's original poster. The internet was abuzz immediately after the release of Ready Player One's first poster which appeared to show the film's star, Tye Sheridan, with an impossibly long leg.
Ready Player One is based on Ernest Cline's bestselling novel with a script by Zak Penn and Ernest Cline and Steven Spielberg directing. The cast is led by Tye Sheridan (X-Men: Apocalypse, Mud) and includes Olivia Cooke (Me and Earl and the Dying Girl, Bates Motel), Ben Mendelsohn (Rogue One – A Star Wars Story, Bloodline), and T.J. Miller (Deadpool, Silicon Valley). Simon Pegg (the Star Trek movies, the Mission: Impossible franchise) and Oscar winner Mark Rylance (Bridge of Spies, Dunkirk) also star in the much anticipated sci-fi film.
Donald De Line, Steven Spielberg, Kristie Macosko Krieger, and Dan Farah served as producers, with Adam Somner, Daniel Lupi, Chris deFaria and Bruce Berman executive producing. Janusz Kaminski is the director of photography, Adam Stockhausen is the production designer, Michael Kahn and Sarah Broshar are the editors, and Kasia Walicka Maimone is the costume designer.
Warner Bros Pictures has set a Thursday, March 29, 2018 theatrical release date.
The Plot: The film is set in 2045, with the world on the brink of chaos and collapse. But the people have found salvation in the OASIS, an expansive virtual reality universe created by the brilliant and eccentric James Halliday (Rylance). When Halliday dies, he leaves his immense fortune to the first person to find a digital Easter egg he has hidden somewhere in the OASIS, sparking a contest that grips the entire world. When an unlikely young hero named Wade Watts (Sheridan) decides to join the contest, he is hurled into a breakneck, reality-bending treasure hunt through a fantastical universe of mystery, discovery and danger.