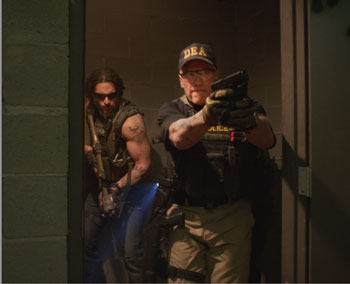 2013 wasn't exactly a great year at the box office for Arnold Schwarzenegger. Returning to starring roles following years off to govern California, Schwarzenegger's Escape Plan and The Last Stand didn't exactly meet with favorable reviews or success at the box office. But what Sabotage has going for it that the 2013 films didn't is David Ayer (End of Watch) as director. Schwarzenegger's also surrounded by a decent supporting cast – Olivia Williams, Mireille Enos, Sam Worthington, Harold Perrineau, Terrence Howard, Joe Manganiello, and Max Martini – so 2014 might just be a better year for Schwarzenegger films. Then again, he's also got The Expendables 3 coming in 2014…

The Sabotage Plot:

In Sabotage, Arnold Schwarzenegger leads an elite DEA task force that takes on the world's deadliest drug cartels. When the team successfully executes a high-stakes raid on a cartel safe house, they think their work is done – until, one-by-one, the team members mysteriously start to be eliminated. As the body count rises, everyone is a suspect.

Watch the trailer:



-Posted by Rebecca Murray
Follow Us On:
Stumble It!