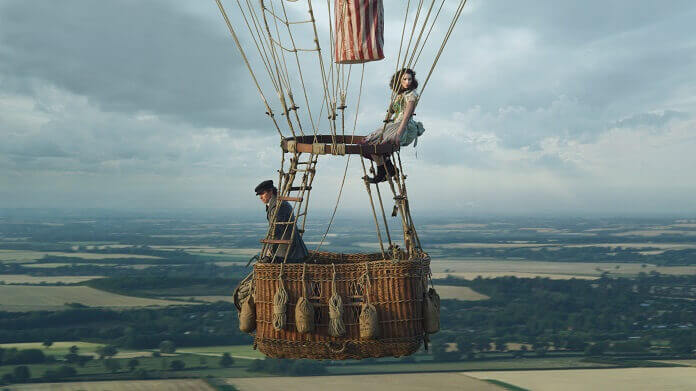 Filming has just begun on Amazon Studios' The Aeronauts starring Felicity Jones (Rogue One: A Star Wars Story) and Eddie Redmayne (Fantastic Beasts and Where to Find Them, The Danish Girl). In support of the start of production, Amazon's released an official photo featuring Jones and Redmayne on board a hot air balloon.
The film's shooting in London and across the UK with Tom Harper (War & Peace, Peaky Blinders) at the helm. Jack Thorne (Harry Potter and the Cursed Child, Wonder, Radioactive) wrote the screenplay. Harper produces along with Todd Lieberman and David Hoberman. Richard Hewitt serves as executive producer.
"A top priority for us on The Aeronauts is authenticity. With that in mind, we intend to do as much balloon filming in the sky as the weather will allow. This image was taken after we launched Felicity and Eddie 2,000 feet in the air, performing their scripted scene, while a helicopter captured it all. We're fortunate that Felicity and Eddie have the nerve to do these stunts themselves as it authenticates our entire approach" said Todd Lieberman.
The Aeronauts reunites Felicity Jones and Eddie Redmayne following their award-winning performances in The Theory of Everything. Redmayne won the Best Actor Oscar for portraying Stephen Hawking in the film, and Jones was nominated in the Best Actress category.
Joining Redmayne and Jones are Tom Courtenay (45 Years), Anne Reid (The Last Tango in Halifax), Rebecca Front (The Thick of It), Vincent Perez (Riviera), Tim McInnery (Game of Thrones), Phoebe Fox (The Hollow Crown), and Himesh Patel (EastEnders).
The behind the scenes team includes director of photography George Steel (War & Peace, Peaky Blinders), costume designer Alexandra Bryne (Oscar winner for Elizabeth: The Golden Age), with hair and make-up by Jenny Shircore (Beauty and the Beast). Production designers are David Hindle (The Death of Stalin, The Theory of Everything) and Christian Huband (Fantastic Beasts and Where to Find Them), and the VFX supervisor is Louis Morin (The House with a Clock on its Walls).
The Plot: Set in 1862, The Aeronauts follow wealthy young widow Amelia Wren (Felicity Jones) and ambitious scientist James Glaisher (Eddie Redmayne) as they mount a balloon expedition to fly higher than anyone in history. This is a journey to the very edge of existence, where the air is thin and the chances of survival are slim. As their perilous ascent reveals their true selves, this unlikely pair discover things about each other – and themselves – that help them find their place in the world they have left behind.