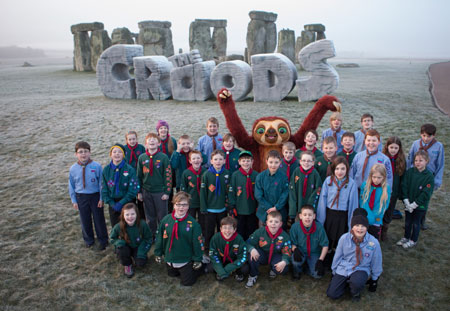 20th Century Fox is going all-out in marketing the family-friendly animated movie
The Croods
. And in one of the most unique promotional pushes of the year, the studio created the "first ever modern monument" at the historical landmark, Stonehenge. A gigantic rock monument spelling out "The Croods" was placed in front of Stonehenge in celebration of Spring Solstice.
Opening in theaters on March 22, 2013,
The Croods
features the voices of Nicolas Cage, Emma Stone, Ryan Reynolds, Catherine Keener, Cloris Leachman and Clark Duke.
The Plot:
The Croods
follows the world's first modern family through the journey of a lifetime. When the cave that has always been their home is destroyed – with the rest of their world not far behind it – the Croods are forced to set off on the first family road (or path) trip. Rocked by generational clashes and seismic shifts, the Croods discover an incredible new world filled with fantastic creatures, and a future beyond any they imagined.
Watch the video:
Follow Us On: