One of this summer's big action films, The Expendables 3, is showing off a brand new behind the scenes featurette. The new video shows the cast talking about their fellow veteran action stars who came together for this third film of the Expendables franchise. "Icons on top of icons. You've got a pile of icons. Congratulations," says one of the icons, Harrison Ford, in this behind-the-scenes video. In addition to little clips of the cast chatting about the film, this featurette actually reveals some footage that hadn't previously been included in any of the trailers.
Lionsgate's releasing The Expendables 3 in theaters on August 15, 2014.
In addition to Harrison Ford as Drummer, the cast includes Sylvester Stallone (Barney Ross), Jason Statham (Lee Christmas), Antonio Banderas (Galgo), Jet Li (Yin Yang), Wesley Snipes (Doc), Dolph Lundgren (Gunnar Jensen), Kelsey Grammer (Bonaparte), Terry Crews (Hale Caesar), Randy Couture (Toll Road), Kellan Lutz (John Smilee), Ronda Rousey (Luna), Glen Powell (Thorn), Victor Ortiz (Mars), Robert Davi (Vata), with Mel Gibson (Conrad Stonebanks), and Arnold Schwarzenegger (Trench).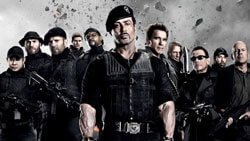 -By Rebecca Murray
Follow Us On: