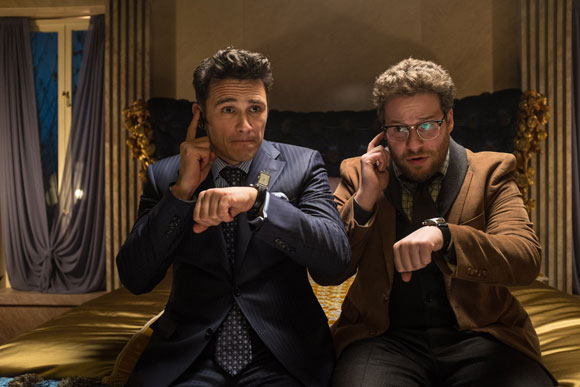 Some trailers are labeled 'red band' and don't actually have that much content that would be offensive to younger audiences or would get viewers in trouble for watching the restricted trailer at work. That's not the case with the red band trailer for The Interview, the R-rated comedy starring Seth Rogen and James Franco. This one's definitely not safe for younger viewers or for work. You've been warned.
The Interview reunites the writing/directing team of Seth Rogen and Evan Goldberg (This Is The End) for a wild comedy coming to theaters on December 25, 2014.
The Plot:
Dave Skylark (James Franco) and his producer Aaron Rapoport (Seth Rogen) run the popular celebrity tabloid TV show 'Skylark Tonight.' When they discover that North Korean leader Kim Jong-un is a fan of the show, they land an interview with him in an attempt to legitimize themselves as journalists. As Dave and Aaron prepare to travel to Pyongyang, their plans change when the CIA recruits them, perhaps the most unlikely candidates, to 'take out' Kim Jong-un.
Watch the restricted trailer:
-By Rebecca Murray
Follow Us On: