Kermit the Frog, Miss Piggy, and the whole Muppet gang are returning to the big screen with The Muppets…Again! co-starring two-legged, non-furry actors Ricky Gervais, Ty Burrell and Tina Fey. This new Muppets movie brings back writer Nicholas Stoller and writer/director James Bobin from the 2011 blockbuster The Muppets for more hair-raising/feather-ruffling adventures, with Disney targeting a March 21, 2014 release date.

And just to keep Muppet fans happy, Disney's released the first two official photos from the 2014 comedy.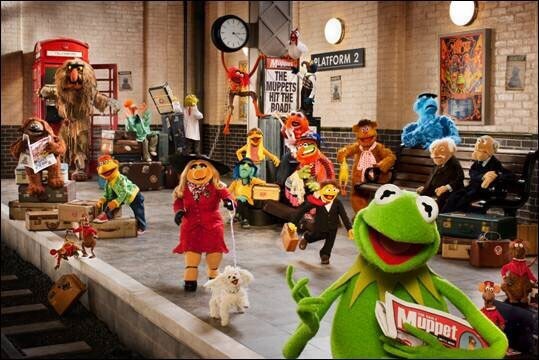 The Plot:

Disney's The Muppets …Again! takes the entire Muppets gang on a global tour, selling out grand theaters in some of Europe's most exciting destinations, including Berlin, Madrid and London. But mayhem follows the Muppets overseas, as they find themselves unwittingly entangled in an international crime caper headed by Constantine—the World's Number One Criminal and a dead ringer for Kermit—and his dastardly sidekick Dominic, aka Number Two, portrayed by Ricky Gervais. The film stars Tina Fey as Nadya, a feisty prison guard, and Ty Burrell as Interpol agent Jean Pierre Napoleon.

Source: Walt Disney Pictures

Follow Us On:
Journalist covering the entertainment industry for 19+ years, including 13 years as the first writer for About.com's Hollywood Movies site. Member of the Broadcast Television Journalists Association, Broadcast Film Critics Association, Alliance of Women Film Journalists, and President of the San Diego Film Critics Society.
Latest posts by Rebecca Murray (see all)