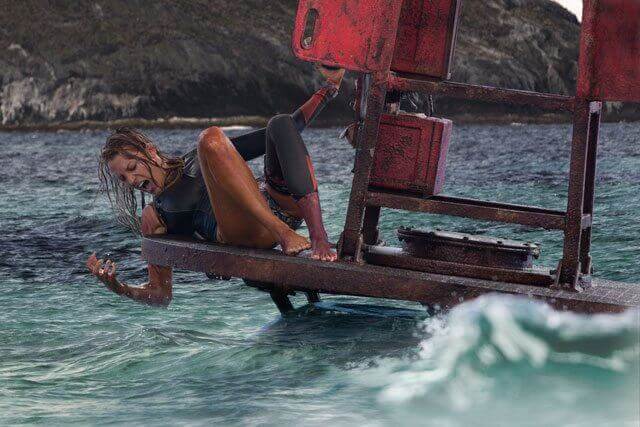 Here's a brief summary of the conversation in the press rows prior to The Shallows screening in San Diego:
– A spirited debate is held over whether Blake Lively will die in the film. 2003's Open Water is repeatedly referenced.
– Much discussion takes place concerning the fact the trailers have seemingly given away far too much of the actual film. That's followed by talk of how difficult it is to avoid all trailers.
– We question whether the shark will be seen often or if it will only be brief flashes to keep the CG to a minimum.
– The CG talk is followed by the voiced hope of a silent shark (if it growls, we're out of there).
– One critic reminds us the director is the guy behind Non-Stop and Run All Night so we cling to the hope that the action, if not the story, will be first-rate.
– Surprisingly little is mentioned about the opportunity we're about to have to watch Blake Lively in a bikini for 80 minutes.
– And, finally, we all agree we're surprised so many of our local critics have chosen to sit through The Shallows screening as opposed to taking in the only screening of Free State of Jones which is happening simultaneously at a different local theater. Screening conflicts happen and normally it's the 'serious' film that gets our attention. In this case, we're all apparently hoping for a fun time at the theater. And, you know, San Diegans surf.
The reason for the recap of this particular movie's pre-screening talk is because I can't recall a recent film that's generated so much discussion in the minutes leading up the actual screening. We all had high hopes for, well, maybe not another Jaws but at least something less campy than a Sharknado. Fingers were crossed that The Shallows wouldn't jump the shark. (Sorry, but you had to know that was coming.) And for 65 minutes of its running time, the only jumping going on was done by a pod of dolphins that sailed over Blake Lively's lovely head. Unfortunately, the film did not end at 65 minutes. Instead, what up to that point had been a fairly intense thriller turned into Jaws 3-D minus the third dimension.
The film follows Lively as Nancy, a Texas native who makes the trek to Mexico to visit a secluded beach her mother raved about while she was growing up. Nancy's mom recently passed away and Nancy's dad and little sis aren't happy she's taken off on this mission to reconnect with her mother by following in her footsteps. We learn of their displeasure via phone conversations while Nancy, feet in the sand, looks wistfully out to sea at the breaking waves.
The secret surfing spot has only two other surfers riding the waves when Nancy paddles out. They exchange some friendly, sort of flirty on the men's part, banter before taking a final ride and leaving Nancy out alone a couple of hundred yards from the shore. Of course it's just as the guys are driving off in their Jeep that the shark makes his presence known. Badly injured, Nancy makes her way to a small group of rocks as the shark circles menacingly not far away, obviously hoping for an arm or a leg to accidentally slip into the water. Fortunately, she has an injured seagull (substituting for Wilson the Volleyball of Cast Away fame) to keep her company and talk to so that the audience knows what she's got planned. Also working in her favor is the fact she left med school to take this particular journey down memory lane.
The setup is simple, however director Jaume Collet-Serra, working from a script by Anthony Jaswinski, does an impressive job of taking the story deeper than you'd expect. Nancy's motivations are explained and, in most respects, are plausible. The reason the shark remains nearby, the reason she's alone when this happens, and her ability to treat her wounds all are explained and make sense.
Also working in The Shallows' favor is a gutsy performance by Blake Lively. She carries the entire film and is in 99% of the scenes, and she's completely convincing as a surfer who finds herself in a life-or-death struggle with a Great White. You root for Nancy and, unlike most action films, seldom do you want to yell at her for the choices she's making while trying to stay alive.
The Shallows features incredible cinematography including fantastic surfing footage and stunning underwater shots. Without spoiling anything, there's a scene involving jellyfish that is simply breathtaking. The first few shots of the ocean clue you in on the fact this isn't a throw-away summer popcorn thriller, and the script's theme of persevering against all odds is much heavier than you'd expect from the shark vs. gorgeous blonde surfer setup. If not for the final 15 minutes, The Shallows would be one of the best shark films to date. Even with the dreadful ending, it's still worth checking out. It definitely renewed my fear of swimming more than a few dozen feet from the shore.
GRADE: B
MPAA Rating: PG – 13 for bloody images, intense sequences of peril, and brief strong language.
Running Time: 87 minutes
Release Date: June 24, 2016