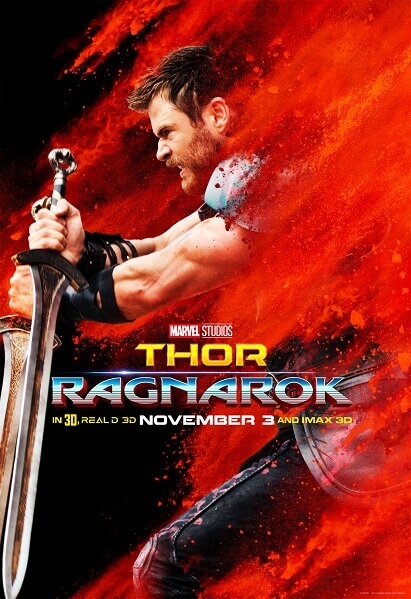 Tickets are now on sale for the November 3, 2017 theatrical release of Marvel Studios' Thor: Ragnarok. Fandango just released their annual survey of most anticipated fall films, and the new Thor tops the list as voted on by 1,000 movie fans. Chris Hemsworth took first in the survey's Most Anticipated Actor category and the film's Cate Blanchett earned the second spot on Fandango's Most Anticipated Actress list.
"Moviegoers always look forward to the fall season when some of the year's best films debut," said Fandango Managing Editor Erik Davis. "This year there's an especially diverse slate full of a little something for everyone. Thor: Ragnarok claims the most anticipated title, thanks to the overwhelming momentum and excitement the Marvel Studios brand has built up over the years, plus fans can't wait to see more of Mark Ruffalo's Hulk, as well as Cate Blanchett and Tessa Thompson in new-to-the-franchise roles."
Marvel unveiled eight new character posters from Thor: Ragnarok in support of what they've dubbed, "Thorsday," marking the beginning of ticket sales for the superhero film. The new posters feature Chris Hemsworth as Thor, Tom Hiddleston as Loki, Cate Blanchett as Hela, Idris Elba as Heimdall, Jeff Goldblum as Grandmaster, Tessa Thompson as Valkyrie, Anthony Hopkins as Odin, and the Hulk.
Directed by Taika Waititi from a script by Eric Pearson, Thor: Ragnarok is executive produced by Louis D'Esposito, Victoria Alonso, Brad Winderbaum, Thomas M. Hammel and Stan Lee.
The Plot: In Marvel Studios' Thor: Ragnarok, Thor is imprisoned on the other side of the universe without his mighty hammer and finds himself in a race against time to get back to Asgard to stop Ragnarok—the destruction of his homeworld and the end of Asgardian civilization—at the hands of an all-powerful new threat, the ruthless Hela. But first he must survive a deadly gladiatorial contest that pits him against his former ally and fellow Avenger—the Incredible Hulk!