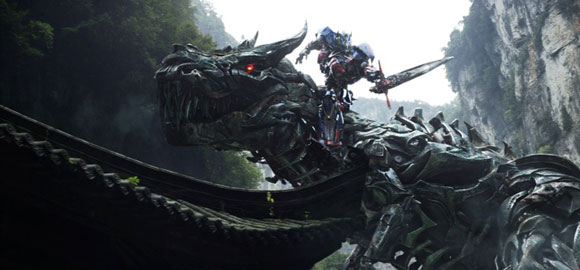 Summer is upon us once again, which usually means Michael Bay has another "film" ready for mass consumption. This time around, it's the retweak of his own Transformers franchise as they gear up for another trilogy (yes, you read that right). Let's run down the list of items that have been replaced shall we?
Out is Shia LaBeouf! (And there was much rejoicing!)
In comes Marky Mark. (He said what to my mother?)
Out is the music of Linkin Park. (And no one seemed to care.)
In comes the music of Imagine Dragons. (And no one seemed to notice.)
Out is the Victoria's Secret supermodel. (Who previously replaced Bay's bff Megan Fox.)
In is actress Nicola Peltz. (Who are we kidding? She's gorgeous too.)
Out is anything resembling a quality script … Wait, that was never in any of these films.
Actually, I think pretty much everything in the franchise just about bled over to Transformers: Age of Extinction. Bay is still shooting nearly every shot during the golden hour (this really should be titled Transformers: The Sun ALWAYS Sets). Bay still loves to place the camera near ground level and spin around his protagonists (because doing it from high above is Peter Jackson's thing). And Bay still cannibalizes his own work to "create" his "new" material. Check out this video to see what he used from Pearl Harbor in the first Transformers. And try this video for what he re-skinned from The Island for Transformers 3. I didn't spot an actual clip of the same footage in this movie but almost every story beat from the first three films is here again, and so is the "look at the beautiful innocent girl while she's sleeping" moment. Creeper.
Anywho, I'm not even sure why anyone is reading a review about a Transformers movie. Who in their right mind is thinking that all of a sudden, film critics are going to say: "Hey, you know what? That Michael Bay sure can make a quality film." That's not to say he doesn't know how to make films look pretty (by shooting constantly with the sun about to set). It also doesn't mean there's isn't a level of enjoyment gained from the pure escapism that his movies bring. I need to turn my brain off as much as the next person (some who know me would say I do it enough) but if there's one big problem I have with Transformers: Age of Extinction (having already thrown my hands up at trying to critique the "merits" of a Michael Bay project), it's that the movie lasts for 2 hours and 45 minutes!
Ugh.
Why?
Want … to … go … to … bed … but … CAN'T BECAUSE IT'S SO F#$*ING LOUD IN THE THEATER! — WHAT?!?? — I SAID … Aww, forget it. Seriously, there are two ginormous plots to work through and either one of them could easily fill the time of a standard 1 hour, 45 minute movie. Cramming BOTH down our eye-sockets is just cruel.
There's some nice comic relief from T.J. Miller & Thomas Lennon (neither of whom get enough screen time). There's also the welcome vocal stylings of John Goodman as a trigger-happy Autobot and the wonderful presence of Stanley Tucci (who may have accepted this role in some attempt to follow the Ben Kingsley school of doing one good movie for every two horrible, but lucrative, endeavors). But for me, aside from giggling at the idea that Marky Mark is a tech wiz, the fun of the movie was watching Kelsey Grammar and Titus Welliver chew up scenery like a pair of hungry goats. As much as I like Frances McDormand, she was woefully miscast in Transformers 3 and with Grammar and Welliver, the casting department got something right.
Of course, then there's that pesky "script" again. Somehow, Kelsey Grammar is playing a big shot hell bent on obtaining a very rare artifact so he can retire in style. I'm pretty sure we've all seen this happen for him before … in Toy Story 2 where Stinky Pete has to obtain Woody to complete the set of toys that will ensure him a place in a cushy exhibit! Oh well, if you know someone who goes into a Transformers film looking for creativity, I've got a mighty fine bridge to sell you.
Look, all keen observations snide remarks aside, you're either the type of person who wants to see a nearly 3-hour explosion fest that's blows everything but your mind … or you're not. If Bay could have trimmed off about an hour of the affair, I'd be far kinder but this movie seems to be about as bloated as his budgets. Sure, you could go see Transformers: Age of Extinction in movie theaters. But unless you're doing it to reap the benefits of the three hours of air conditioning that comes standard with your movie ticket, you could also wait to see this at home and just watch it in installments so as not to take up too much of your time all at once. Oh, and allow me to possibly save you ten minutes and a few dollars: there's nothing at the end of the credits and you need the 3D in this movie like you need another hole in your head.
Someone wake me when they've transformed a Michael Bay movie script into something worth reading.
GRADE: C- (even though it's exactly what you think it will be … it's TOO LONG)
Transformers: Age of Extinction is rated PG-13 for intense sequences of sci-fi violence and action, language and brief innuendo.
– Reviewed by Ian Forbes
Follow Us On: