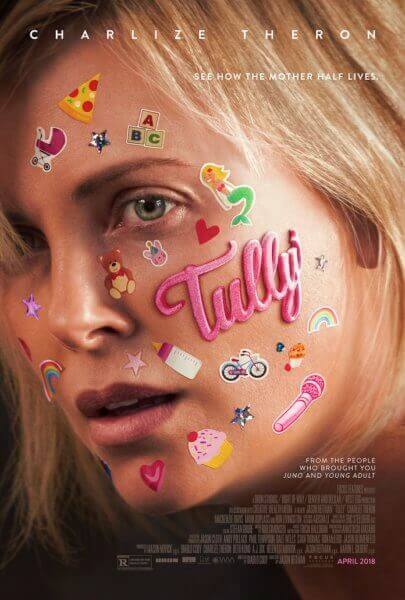 Focus Features just released the official poster for the upcoming comedy movie, Tully. The 2018 release stars Oscar winner Charlize Theron (Monster) as a new mom who receives an interesting, life-changing present from her brother.
The studio also announced a new "sticker face" contest hosted on Instagram. Per the studio: "Share your own "sticker face" photo now on Instagram using #TullySweeps for a chance to win a trip for 2 to the premiere of Tully in Los Angeles. Rules: www.TullySweepsRules.com"
In addition to Charlize Theron, the Tully cast includes Mackenzie Davis (Halt and Catch Fire, That Awkward Moment), Mark Duplass (The Mindy Project, Manhunt: Unabomber), and Ron Livingston (Loudermilk, The Conjuring).
The comedy reunites Charlize Theron with director Jason Reitman and writer Diablo Cody. The threesome previously collaborated on 2011's Young Adult, a comedy/drama about a young adult book writer who has writers block and returns home to try and steal her ex-boyfriend from his wife.
Director Reitman and screenwriter Cody also teamed up for 2007's critically acclaimed indie drama, Juno. Juno starred Ellen Page, Jennifer Garner, Jason Bateman, and Michael Cera, and earned four Oscar nominations including Best Picture and Best Performance by an Actress in a Leading Role (Ellen Page). Cody took home the Oscar for her original screenplay.
Focus Features will release Tully in theaters on April 20, 2018.
The Tully Plot: A new comedy from Academy Award-nominated director Jason Reitman (Up in the Air) and Academy Award®-winning screenwriter Diablo Cody (Juno). Marlo (Academy Award winner Charlize Theron), a mother of three including a newborn, is gifted a night nanny by her brother (Mark Duplass). Hesitant to the extravagance at first, Marlo comes to form a unique bond with the thoughtful, surprising, and sometimes challenging young nanny named Tully (Mackenzie Davis).