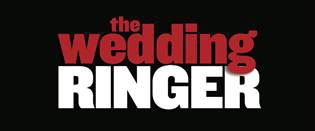 No, not The Wedding Singer – that's a different movie. Kevin Hart stars in the comedy The Wedding Ringer along with Kaley Cuoco-Sweeting, Ken Howard, Cloris Leachman, Jennifer Lewis, Mimi Rogers, and Olivia Thirlby, and a new trailer's just arrived for everyone to check out.
The Wedding Ringer opens in theaters on January 16, 2015.
The Plot:
Jimmy Callahan (Hart) is the owner and CEO of Best Man, Inc., a company that provides flattering best men for socially challenged guys in need, such as Doug Harris (Josh Gad). While Doug is a loveable, he's a bit socially awkward and this groom-to-be has a big problem problem: he has no best man. With less than two weeks to go until he marries the girl of his dreams (Cuoco-Sweeting) Doug is desperate and enlists Doug's services. What ensues is a hilarious wedding charade as they try to pull off the big con, and an unexpected budding bromance between Doug and his fake best man Jimmy.
-By Rebecca Murray
Follow Us On: