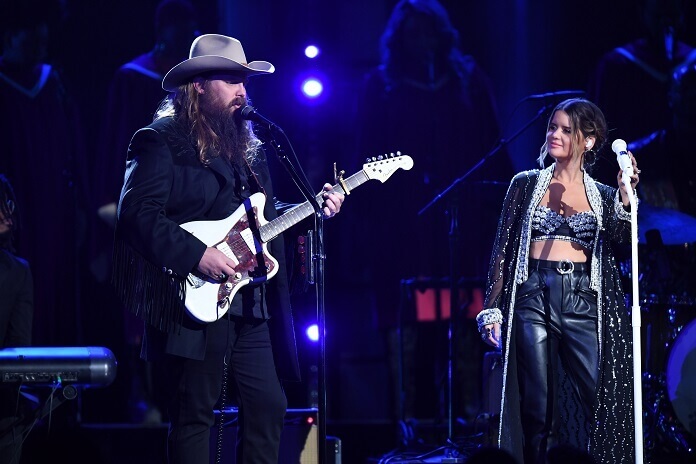 Chris Stapleton topped the list of winners at The 52nd Annual CMA Awards which were held on November 14, 2018 at the Bridgestone Arena in Nashville. Stapleton scooped up three wins, taking home trophies in the Song of the Year, Single of the Year, and Male Vocalist of the Year categories.
Taking the stage to accept his win in the Single of the Year category for "Broken Halos," Chris Stapleton said, "We wrote this song about people that have gone on long before their time … and I want to be thinking about the people out in California right now as we are accepting this award and want to dedicate this to them."
The night's other big winners included Brothers Osborne, Kenny Chesney, Luke Combs, Mac McAnally, David Lee Murphy, Kacey Musgraves, Old Dominion, Thomas Rhett, and Carrie Underwood. Keith Urban was named Entertainer of the Year.
Carrie Underwood and Brad Paisley hosted the 2018 CMA Awards which kicked off with a tribute to the victims of the shooting in the Borderline Bar & Grill in Thousand Oaks. "Tonight's show is lovingly dedicated to the 12 individuals whom we lost far too soon just a week ago tonight at the Borderline [Bar & Grill] in Thousand Oaks, California. Tonight let's celebrate their lives, let the music unite us with love in their enduring memory, so please, join me now in a moment of silence," said Garth Brooks.
Hosts Underwood and Paisley also sent out a special thank you to the firefighters and first responders battling the fires raging in California.
The 52nd Annual CMA Awards Winners:
ENTERTAINER OF THE YEAR
Jason Aldean
Luke Bryan
Kenny Chesney
Chris Stapleton
Keith Urban – WINNER
SINGLE OF THE YEAR
"Broken Halos" – Chris Stapleton – WINNER
"Drinkin' Problem" – Midland
"Drowns the Whiskey" – Jason Aldean (Feat. Miranda Lambert)
"Meant to Be" – Bebe Rexha & Florida Georgia Line
"Tequila" – Dan + Shay
ALBUM OF THE YEAR
"From A Room: Volume 2″– Chris Stapleton
"Golden Hour" – Kacey Musgraves – WINNER
"Graffiti U" – Keith Urban
"Life Changes"– Thomas Rhett
"The Mountain"– Dierks Bentley
SONG OF THE YEAR
"Body Like A Back Road" – Songwriters: Zach Crowell, Sam Hunt, Shane McAnally, Josh Osborne
"Broken Halos" – Songwriters: Mike Henderson, Chris Stapleton – WINNER
"Drowns the Whiskey" – Songwriter: Brandon Kinney, Jeff Middleton, Josh Thompson
"Drunk Girl" – Songwriter: Scooter Carusoe, Tom Douglas, Chris Janson
"Tequila" – Songwriter: Nicolle Galyon, Jordan Reynolds, Dan Smyers
FEMALE VOCALIST OF THE YEAR
Kelsea Ballerini
Miranda Lambert
Maren Morris
Kacey Musgraves
Carrie Underwood – WINNER
MALE VOCALIST OF THE YEAR
Dierks Bentley
Luke Combs
Thomas Rhett
Chris Stapleton – WINNER
Keith Urban
VOCAL GROUP OF THE YEAR
Lady Antebellum
LANCO
Little Big Town
Midland
Old Dominion – WINNER
VOCAL DUO OF THE YEAR
Brothers Osborne – WINNER
Dan + Shay
Florida Georgia Line
Maddie & Tae
Sugarland
MUSICAL EVENT OF THE YEAR
"Burning Man" – Dierks Bentley Feat. Brothers Osborne
"Dear Hate" – Maren Morris (Feat. Vince Gill)
"Drowns the Whiskey" – Jason Aldean (Feat. Miranda Lambert)
"Everything's Gonna Be Alright" – David Lee Murphy (with Kenny Chesney) – WINNER
"Meant to Be" – Bebe Rexha & Florida Georgia Line
MUSICIAN OF THE YEAR
Jerry Douglas, Dobro
Paul Franklin, Steel Guitar
Dann Huff, Guitar
Mac McAnally, Guitar – WINNER
Derek Wells, Guitar
MUSIC VIDEO OF THE YEAR
"Babe" – Sugarland (Featuring Taylor Swift)
"Cry Pretty" – Carrie Underwood
"Drunk Girl" – Chris Janson
"Marry Me" – Thomas Rhett – WINNER
"Tequila" – Dan + Shay
NEW ARTIST OF THE YEAR
Lauren Alaina
Luke Combs – WINNER
Chris Janson
Midland
Brett Young