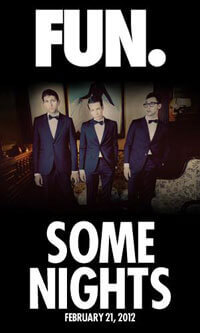 fun. will be hitting the road on February 29, 2012, kicking off a North American tour that will finish up on May 5th in Charlottesville, VA. Tickets are now on sale for the tour in support of the group's Some Nights album (on sale February 21, 2012).

Visit www.ournameisfun.com for all the details.

SOME NIGHTS Track List
1. Some Nights Intro
2. Some Nights
3. We Are Young (feat. Janelle Monáe)
4. Carry On
5. It Gets Better
6. Why Am I the One
7. All Alone
8. All Alright
9. One Foot
10. Stars
11. Out On The Town (Bonus Track)
North American Tour 2012
FEBRUARY
29 South Burlington, VT Higher Ground
MARCH
1 Pawtucket, RI The Met Café
2 Towson, MD The Recher Theatre
3 Carrboro, NC Cat's Cradle
7 St. Petersburg, FL State Theatre
8 Orlando, FL Beacham Theatre
9 Atlanta, GA Center Stage
10 Birmingham, AL WorkPlay Theatre
20 Houston, TX Warehouse Live Studio
21 Dallas, TX House of Blues
23 Tucson, AZ Rialto Theatre
24 Pomona, CA The Glass House
28 San Francisco, CA The Independent
29 San Francisco, CA Bottom of the Hill
31 Salt Lake City, UT In The Venue
APRIL
3 Fort Collins, CO Aggie Theatre
5 Denver, CO Bluebird Theater
6 Boulder, CO Fox Theatre & Café
10 Omaha, NE The Slowdown
11 Madison, WI The Majestic Theatre
13 Minneapolis, MN The Varsity Theater
14 Chicago. IL Vic Theatre
15 Detroit, MI St. Andrews Hall
18 Grand Rapids, MI The Intersection
19 Columbus, OH Newport Music Hall
20 Rochester, NY Water Street Music Hall
21 Boston, MA House of Blues
25 Toronto, ON The Mod Club Theatre
26 Montreal, QC Cabaret du Mile End
27 Clifton Park, NY Northern Lights
28 Philadelphia, PA Theatre of Living Arts
MAY
4 Washington, DC 9:30 Club
5 Charlottesville, VA Jefferson Theatre\
About fun [Courtesy of Fueled by Ramen]:
fun. began in 2008 when Nate Ruess teamed up with Andrew Dost and Jack Antonoff to meld an array of diverse inspirations into their own irresistible and freewheeling pop songcraft. The band drew immediate attention for their contemporary rethinking of classic '70s pop, where ornate arrangements and inspired orchestrations meet present-day rock 'n' roll. Fit to burst with richly prolix lyricism and intricate melodic twists and turns, "AIM AND IGNITE" earned copious critical praise: Paste praised their "bubbly, pop-synth songs," while The Huffington Post noted that "(fun. has) been quite on a roll since the release of their well-received debut."
The band followed the album's release with a series of well-received live appearances, including numerous headline dates and show-stopping performances at such gatherings as 2011's Coachella Valley Music & Arts Festival.
Watch the "We are Young" video:
Source: Fueled by Ramen – December 8, 2011