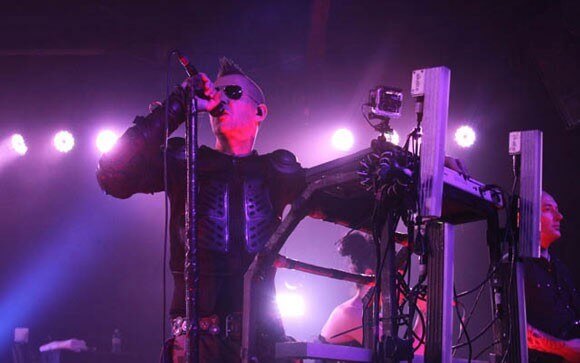 Reviewed by Richard Chavez
KMFDM played a nice, intimate show at The Glass House in Pomona, CA on November 13, 2013 and when I say intimate, I mean intimate. The venue wasn't even half way full, which doesn't make sense considering how popular Kaptain K's band is and also how long they've been around. Needless to say, no one was complaining.
Kaptain K and his band mates Lucia, Andy, Jules and Steve had an awesome time playing songs like "Kunst" from their album with the same title and other great hits including "Light," "Tohuvabohu," "Son of a Gun," "A Drug Against War" and many others. They played a total of 19 tracks and ended with "Anarchy" (from their
Symbols
album) featuring Bradley B Chant from the opening act Chant.
All in all, the show was great. Lucia with her banshee-like screams and Sasha's German vocals during certain tracks made the night complete. They have a couple shows left during this tour and will be getting ready for a 30 year anniversary – and I'm sure another tour celebrating the anniversary. So until next year…
–
KMFDM Concert Photo Gallery
Follow Us On:
Stumble It!