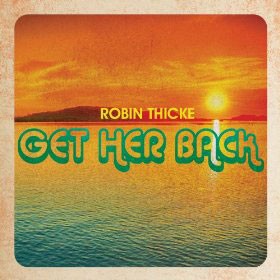 Robin Thicke will be following up Blurred Lines with a new album set for release on Star Trak/Interscope Records on July 1, 2014. The new album features songs written and produced by singer/songwriter Thicke, with more details promised soon as to what his fans can expect from the July 1st release.
Thicke's Blurred Lines hit the charts in 2013, debuting in the top spot on the Billboard Top 200 chart. The album's single "Blurred Lines" was a steady presence on the Billboard Hot 100 chart for 12 weeks and it hit #1 on the Top 40, Rhythm, Urban, Hot AC & Urban AC simultaneously, marking the first time an artist has managed to pull off that feat.
Thicke's first single from the upcoming album is "Get Her Back" which he performed on the 2014 Billboard Music Awards as well as on the season finale of The Voice with contestant Josh Kaufman.
Source: Interscope Records
-By Rebecca Murray
Follow Us On:
Stumble It!