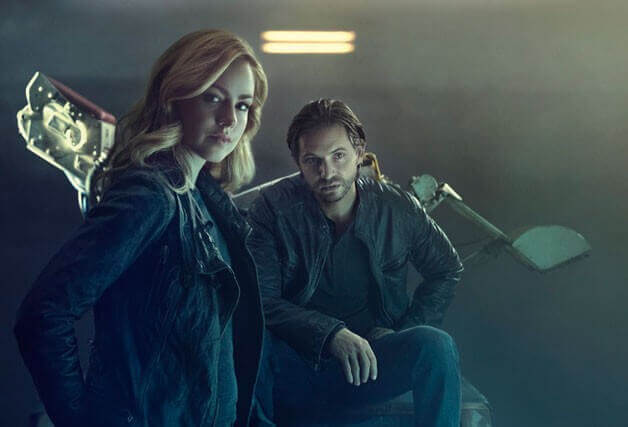 Syfy's released details on season two of its popular science fiction thriller 12 Monkeys including the list of guest stars and who they'll be playing. The critically acclaimed series will kick off season two on April 18, 2016 at 9pm ET/PT with Aaron Stanford (James Cole), Amanda Schull (Dr. Cassandra Railly), Kirk Acevedo (Ramse), Barbara Sukowa (Katarina Jones), Emily Hampshire (Jennifer Goines) and Todd Stashwick (Deacon) back in starring roles. Guest starring in season two will be Madeleine Stowe (she also starred in the feature film), Michael Hogan, Brendan Coyle, Jay Karnes, David Dastmalchian, David Marciano, and Xander Berkeley.
The series comes from co-creators Terry Matalas and Travis Fickett and is based on the 1995 film that starred Brad Pitt and Bruce Willis. Fickett and Matalas are the showrunners and executive produce with Charles Roven (Suicide Squad) and Richard Suckle (American Hustle).
The Plot: 12 Monkeys follows the journey of James Cole (Aaron Stanford), a man from 2043 sent back in time to stop a malevolent organization known as the Army of the 12 Monkeys from destroying the world. Joining forces with Dr. Cassandra Railly (Amanda Schull) here in the present day, Cole must untangle an insidious conspiracy that's been spun throughout centuries. As Cole, Dr. Railly and their unlikely allies get closer to discovering the truth, they will learn that there are not only deadly consequences for mankind… but time itself.
Season 2 Guest Stars:
Madeleine Stowe as Lillian, a mental patient in the 1950s who has a major impact on Cole's mission.
Michael Hogan as Dr. David Eckland, a charismatic and intelligent scientist from the future with a connection to Jones.
Brendan Coyle as Dr. Benjamin Kalman, a former bioengineer racked with guilt over the deadly virus his team gave birth to.
Jay Karnes as a savvy FBI agent in the 1940s named Robert Gale, who believes Cole is connected to a series of grisly murders.
David Dastmalchian ("Marvel's Ant-Man") as Kyle Slade, a Vietnam vet whose mind is connected to time itself.
David Marciano as NYPD detective John Damato, who's pulled into the 1975 case of a serial killer affiliated with the Army of the 12 Monkeys.
Xander Berkeley returns as the tragic military leader Jonathan Foster who ran the Government's final hope to combat the plague that destroyed the world.