By Kevin Finnerty
As the weather begins to heat up and people break out the suntan lotion, head to the beaches, and heat up the barbecue, it's time to head to the multiplex for the big summer blockbusters, which of course means it's also time once again for the Big Summer Movie Preview. This year a web-slinging hero faces his greatest foes yet, the world faces a very large and angry lizard, young love blooms in the oddest of places, and a group of friendly dragons return to the big screen.
MAY
THE AMAZING SPIDER-MAN 2 (May 1) – Starring Andrew Garfield, Emma Stone, and Jamie Foxx
Plot: Peter Parker aka Spider-Man is really beginning to enjoy being a super hero and fighting crime but he's about to take on the worst enemies to date Electro and The Green Goblin while trying to date and keep safe his beloved Gwen Stacy.
Outlook: Based on a few unimpressive teaser trailers The Amazing Spider-Man 2 might not be so amazing after all. However, fans of this superhero franchise are likely to check out the new Spidey film no matter what the critics are saying. On the plus side, not all critics are blasting the film with The Hollywood Reporter's critic saying it's "emotionally weightier and more satisfying" than the first Amazing Spider-Man. But, that critic is definitely in the minority.
NEIGHBORS (May 9) – Seth Rogen, Zac Efron, and Rose Byrne
Plot: Parents of a new baby find their neighborhood invaded by a fraternity that's out to set a record for partying.
Outlook: Neighbors could be this year's This Is The End: a wild, rowdy ride that's hilarious.
GODZILLA (May 16) – Starring Aaron Johnson-Taylor, Bryan Cranston, and Elizabeth Olsen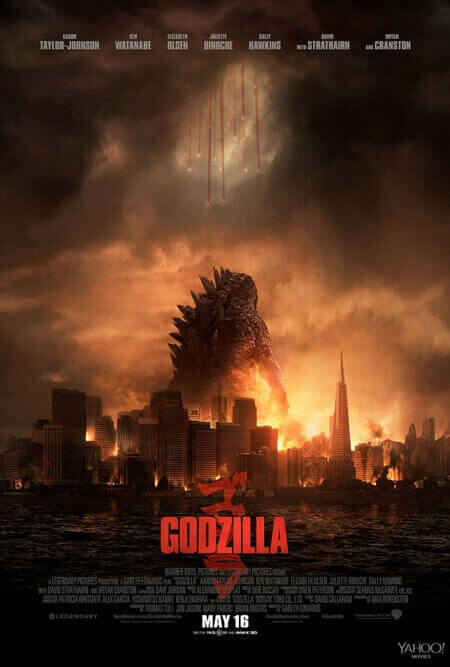 Plot: Japan's most famous giant monster takes on some new evil creatures while also battling mankind in this big budget remake of the 1956 original film.
Outlook: With two very impressive trailers which only provided brief glimpses of the gigantic beast – and with Bryan Cranston as the lead scientist = this hopefully will be the best Godzilla film of them all. Godzilla's one of the most buzzed-about films of 2014 and there's every reason to believe it will live up to its pre-release hype.
MILLION DOLLAR ARM (May 16) – Starring Jon Hamm and Alan Arkin
Plot: A sports agent desperate to save his business goes to India to find cricket players he can turn into first rate Major League Baseball players.
Outlook: It's Jerry Maguire goes to India…yawn. The only thing that might save this from being a disposable 'inspirational' sports movie is the appealing Jon Hamm in the lead role.
X-MEN: DAYS OF FUTURE PAST (May 23) – Starring Hugh Jackman, Michael Fassbender, James McAvoy, Ian McKellen, and Patrick Stewart
Plot: Wolverine is sent back in time to try to prevent an event which, if it takes place, will mean certain doom for both humans and mutants.
Outlook: It's basically X-Men: Back to the Future with Wolverine instead of Marty McFly and Professor Xavier instead of Doc Brown. All that's missing is the cool Delorean and the time-flex capacitor.
A MILLION WAYS TO DIE IN THE WEST (May 30) – Starring Seth MacFarlane and Charlize Theron
Plot: A dumb and cowardly farmer begins to fall for the beautiful and mysterious new woman in town, a budding relationship results that becomes deadly complicated when her gun-slinging husband shows up.
Outlook: After doing a so-so job of hosting the Oscars a few years ago and a terrific job of bringing an R-rated, trashing-talking bear to life on the screen, MacFarlane seems to think he's ready to take on the Wild West. Here's hoping he's right.
MALEFICENT (May 30) – Starring Angelina Jolie and Elle Fanning
Plot: The classic Sleeping Beauty fairy tale is told this time from the villain's point of view and chronicles the events that lead up to the evil Maleficent cursing the young innocent Princess Aurora.
Outlook: With strong casting, impressive special effects, and amazing set design, this re-imagining of an old classic might just become a classic all on its own.
JUNE
EDGE OF TOMORROW (June 6) – Starring Tom Cruise and Emily Blunt
Plot: Set in the future, a soldier finds himself caught in a time loop, fighting aliens, getting killed, and brought back to life only to continue to repeat his last day on earth.
Outlook: It's Groundhog's Day meets Starship Troopers. There's a real deja vu feel to this film that has nothing to do with the premise and everything to do with the been-there/done-that feel of the trailers.
THE FAULT IN OUR STARS (June 6) – Starring Shailene Woodley and Ansel Elgort
Plot: Two teenagers who seem perfect for each other and fall crazy in love meet at a cancer support group.
Outlook: Shailene Woodley is quickly becoming America's new teen sweetheart and if the film has the right balance of humor, sweetness, and darkness, she might just graduate to Hollywood's newest young leading lady. The Fault in Our Stars has a passionate built-in fan base as the book is a must-read for young adults who've embraced the trailers as getting the tone spot-on.
22 JUMP STREET (June 13) – Starring Jonah Hill and Channing Tatum
Plot: After their successful undercover job posing as high schoolers, Jenko and Schmidt face an even bigger challenge this time out: college.
Outlook: Here's hoping that a bigger, louder, and more expensive sequel means even bigger laughs.
HOW TO TRAIN YOUR DRAGON 2 (June 13) – Starring Jay Baruchel and Gerard Butler
Plot: It's been five years since Hiccup and Toothless united the Dragons and Vikings on the Island of Berth. While together soaring the skies looking for new worlds, the two friends come across a new enemy who could threaten everything they have built back home.
Outlook: With wonderful animation, all the voice talent back in place, and a few new ones (including Cate Blanchett), this is sure to be the summer sequel to beat this year.
JERSEY BOYS (June 20) – Starring John Lloyd Young and Christopher Walken
Plot: The story of four young men from the wrong side of New Jersey who in the 1960s formed the great rock and pop group The Four Seasons.
Outlook: With Clint Eastwood directing and Christopher Walken co-starring, this is likely to be 2014's biggest musical (not that it has all that much competition in the musical genre this year).
TRANSFORMERS: AGE OF EXTINCTION (June 27) – Starring Mark Wahlberg and CGI Effects
Plot: An automobile mechanic and his daughter discover a secr…OH PLEASE! It's explosions, terrible dialogue, more explosions, and more dumb dialogue.
Outlook: Here's wishing this franchise would do exactly what is in the film's title and go EXTINCT.
JULY
BEGIN AGAIN (July 4) – Starring Keira Knightley and Mark Ruffalo
Plot: A failing music producer meets and becomes a friend of a singer-songwriter new to Manhattan.
Outlook: If the chemistry is right, Begin Again could snag the title of best romantic comedy (with drama mixed in, of course) of the year.
DAWN OF THE PLANET OF THE APES
(July 11) – Starring Jason Clarke, Keri Russell, Gary Oldman, and Andy Serkis
Plot: Led by the genetically altered and enhanced ape, Caesar, the growing army of apes plan war on the remaining humans who survived the world-wide devastating virus a decade earlier.
Outlook: With a stronger cast, excellent CGI effects, and a much better storyline, this sequel is sure to surpass its predecessor and might be the best Ape film since the very first Planet of the Apes back in 1968.
JUPITER ASCENDING (July 18) – Starring Channing Tatumand Mila Kunis
Plot: In the future a down-on-her-luck woman discovers she might be destined for great things in the universe when she meets an Ex-Military hunter named Cain.
Outlook: With the Wachowskis at the helm, Jupiter Ascending appears to be aiming to be the new Star Wars. Hopefully it doesn't end up actually being closer to being the new Dune.
THE PURGE: ANARCHY (July 18) – Starring Zach Gilford and Michael K. Williams
Plot: A young couple fight to survive the night of legal murder and rape when their car breaks down.
Outlook: Is it possible this one will be even worse than the first film?
A MOST WANTED MAN (July 25) – Starring Phillip Seymour Hoffman and Rachel McAdams
Plot: A Muslim illegally immigrates to Hamburg and gets caught up in the international war on terror.
Outlook: With a strong cast and this being Phillip Seymour Hoffman's last film before his tragic untimely death, it's sure to draw a big audience.
HERCULES (July 25) – Starring Dwayne Johnson, Ian McShane, and Rufus Sewell
Plot: Hercules must battle many enemies to take down a warlord.
Outlook: With horrible CGI in the first trailer and unimpressive action scenes, Dwayne Johnnson might not be a big enough draw to make this one earn back its budget at the box office.
SEX TAPE (July 25) – Starring Cameron Diaz and Jason Segel
Plot: A married couple wake up one morning to discover to their horror that the sex tape they made the night before is missing, which sets off a frantic search to find it.
Outlook: It's an episode of Mad About You for the big screen and something tells this critic I've already seen the funnier version. However, Cameron Diaz and Jason Segel had great chemistry in Bad Teacher so maybe the trailers just aren't doing this comedy justice.
AUGUST
GUARDIANS OF THE GALAXY (August 1) – Starring Chris Pratt, Zoe Saldana, and Vin Diesel
Plot: An American pilot finds himself the focus of a manhunt in space when he steals an orb which the treacherous Ronan desires.
Outlook: Based on the trailers, this will be the strangest Marvel film to date, with a tone that's more comedic than any other movie released by Marvel Studios. Whether audiences will go for this group of oddball heroes is a tough call at this point. The trailers have been well received, but Guardians of the Galaxy is an unknown property to moviegoers not well-versed in the world of comic books.
WHAT IF (August 1) – Starring Daniel Radcliffe and Zoe Kazan
Plot: Two singles meet at a party and have instant chemistry but one is just getting over a serious relationship and the other is in one, so they struggle to be just friends.
Outlook: If the chemistry is right, it could be the perfect movie for a date night.
LUCY (August 8 ) – Starring Scarlett Johansson and Morgan Freeman
Plot: A woman caught up in a dark deal ends up turning the tides on her captors and begins to evolve into a killing machine.
Outlook: Who doesn't want to watch Scarlett Johansson kick-ass?!
THE HUNDRED-FOOT JOURNEY (August 8 ) – Starring Helen Mirren and Manish Dayal
Plot: An Indian family moves to France and opens a restaurant across the street from a Michelin-starred French restaurant.
Outlook: Could be the sleeper hit of the summer, and it's one of the few films coming to theaters during the hot summer months that's aimed at an older audience.
TEENAGE MUTANT NINJA TURTLES (August 8 ) – Starring Megan Fox and Will Arnett
Plot: The four teen sword-wielding turtles are back to fight evil in Manhattan.
Outlook: There are some franchises that should never resurface. This is one of them.
THE EXPENDABLES 3 (August 15) – Starring Sylvester Stallone and Every Action Actor on the Planet
Plot: Barney and the rest of the team come face-to-face with Conrad Stonebanks, the original co-founder of the Expendables who turned on Barney and now wants to destroy the rest of the team.
Outlook: With a great list of action stars including Mel Gibson, Sly, Ford, and Jason Statham, even bigger and louder explosions, chases, shootouts, Expendables 3 will likely be one of this summer's bigger action movies.
FRANK MILLER'S SIN CITY: A DAME TO KILL FOR (August 22) – Starring Josh Brolin, Joseph Gordon-Levitt, and Jessica Alba
Plot: Four new vignettes focusing on a PI, a femme fatale, and an exotic dancer.
Outlook: Edgy, dark, gritty and seedy, it's the long-anticipated sequel that might just be better than the first film.
IF I STAY (August 22) – Starring Chloe Grace Moretz and Jamie Blackley
Plot: Mia Hall had it all: a loving family, a great boyfriend, and a chance at a scholarship to Juilliard, and then a car accident claims her family and leaves her in a coma between life and death. She's left with the ultimate decision…to join her family in the after-life or to stay.
Outlook: Based on the bestselling novel of the same name, If I Stay's trailer has book fans happy as it appears the adaptation to the screen remains faithful to the popular novel.
WHEN THE GAME STANDS TALL (August 22) – Starring Jim Caviezel and Laura Dern
Plot: Inspired by a true story, When the Game Stands Tall focuses on legendary football coach Bob Ladouceur who took the awful De La Salle High School Spartans to a 151 game winning streak.
Outlook: With a great actor in the lead, this character-driven sports film may draw in even those who aren't into football.
Follow Us On:
Stumble It!